QuickBooks error code 102 takes place when your bank website is undergoing maintenance or when the server ends up with some issue while sharing information between QBO and the bank website. Thus, you must resolve this issue as soon as possible to ensure seamless performance. To help you with that, we have listed the major reasons and troubleshooting methods that can help you fix it at the earliest.
What Is Error 102 QuickBooks Online?
Error 102 in QuickBooks online occurs while using QB Online or Self-employed. Other reasons are when there is an issue with the bank's website like technical faults, server issues, the website's ongoing maintenance hampers the ongoing task, or when the server encounters an error while transferring data between the bank's website and QuickBooks. To eliminate the QuickBooks Banking Error Code 102, you need to follow the troubleshooting methods mentioned later in this blog.
If you face Error: QuickBooks online bank account not updating while transferring data between bank website & QBO. Hence, in that scenario, we suggest contacting the expert team of Asquare Cloud Hosting & knowing your system requires fixing QuickBooks Online Bank Account Error 102.
Main Causes of QuickBooks Error 102
Whenever an issue occurs, the first thing that comes to mind is why did it occur? The same goes with QuickBooks Online Error 102, and there are a number of factors that can result in banking error 102 in QB online and self-employed. We have mentioned some major causes of QB Bank account error 102 below:-
Whenever there is an issue at your Bank's end i.e. website maintenance or server down.
Any Network connection issue with your OS may cause Error 102 in QB.
Inaccurate bank account login details can trigger this issue.
You may also get QuickBooks banking error 102 if your bank account is new and online banking has not started yet.
How To Detect QuickBooks Online Bank Account Error 102?
To troubleshoot QuickBooks Error Code 102, you need to know the exact problem. So we have mentioned few points that can help you detect QuickBooks banking error 102 with your online or self-employed versions.
If you encounter an error message pop up on your screen stating the error code 102 while working with QB.
If you're unable to download or update your financial transactions in your QB.
Quickbooks is unable to connect with your Financial Institution.
Top 5 Steps To Fix QuickBooks Error Code 102
Intuit QuickBooks Online error Code 102 usually occurs due to issues at the bank's end but in some cases, incorrect account information, damaged network connection, etc. can also trigger this error. So, follow the troubleshooting steps one by one to eliminate the QuickBooks Error Code 102.
Step 1: Update Your Bank Connection Manually
If you come across a QBO error 102, you must know that you won't get an immediate response from the bank itself. And thus, you have to wait for at least 24 hours. Within this time, you can try to update the online bank connection in QuickBooks manually.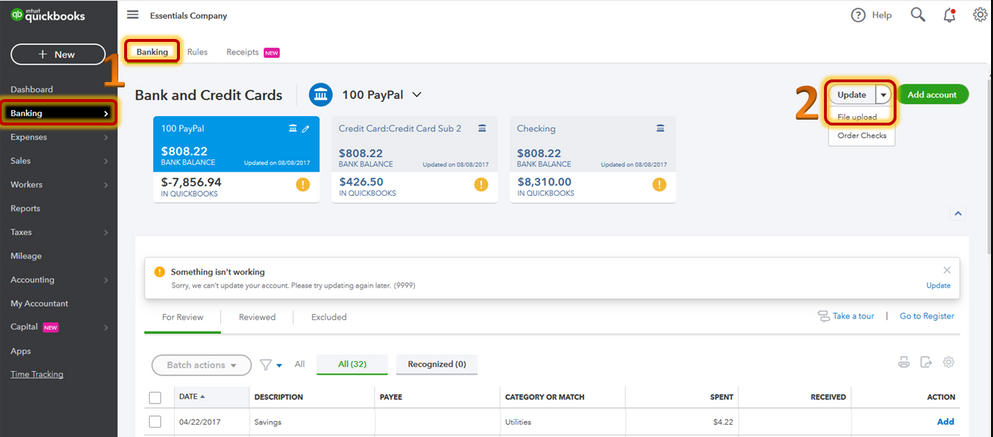 Manually Update Bank account In QuickBooks Online
If QuickBooks online won't connect to bank & end up with an error -102 messages. Then, in that case, follow the given steps carefully to fix the QuickBooks problem connecting to bank: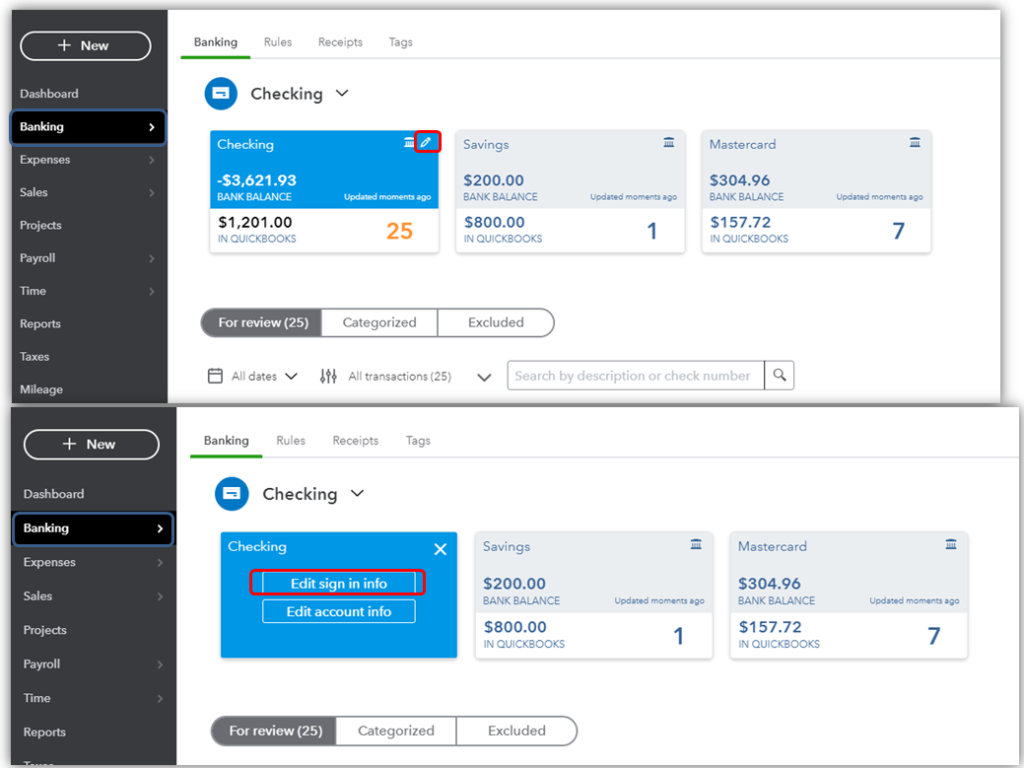 Firstly, you have to log in to QuickBooks Online.
After that, navigate to the Banking or Transactions menu.
Then, click on Update.
Manually Update Bank Connection In QuickBooks Self-Employed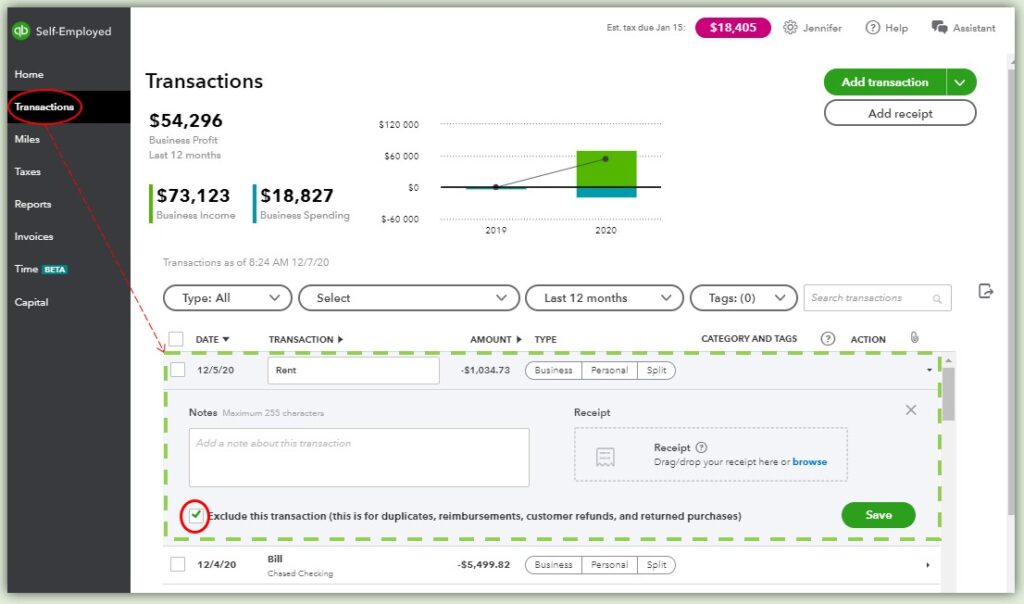 Initially, you have to log in to QuickBooks Self-Employed.
After that, click on the profile icon followed by the Bank accounts.
Further, click on Refresh all.
Though QuickBooks automatically updated the bank account at 3 am but if after updating manually you still face QB Online Banking Error Code 102 then wait for 2-3 hours and try updating the accounts again.
Verify the exact update time by following the below-mentioned steps:
Firstly, select Banking from the left menu.
Click on the update option available at the top right corner.
The date/time of the last update will be listed under the last updated column.
Step 2: Keep Checking Your Bank or Credit card's Website
To make sure that everything is working fine on the bank's end or get information about any updates regarding the maintenance, you must go to the bank and credit card's website to know if they have notified you regarding any update or ongoing issue at their end.

Open your browser and sign in to your bank or credit card's website in the first place.
If you cannot sign in, you must reach out to your bank or credit card company to find an alternative solution.
On the bank's official website, search for messages, notifications, and alerts. It will help you know that it takes place because of a bank issue or QuickBooks-related issue.
Besides, you must verify your account pages, account history, and transactions once again. If you cannot use these, it might be because of some connection error.
Step 3: Verify Your Bank Login Information
Sometimes incorrect bank login information in the QuickBooks can trigger QuickBooks error 102. To troubleshoot & verify if the information is correct, try logging into your bank/credit card website first. On successful login to the bank website, follow the below-mentioned steps:-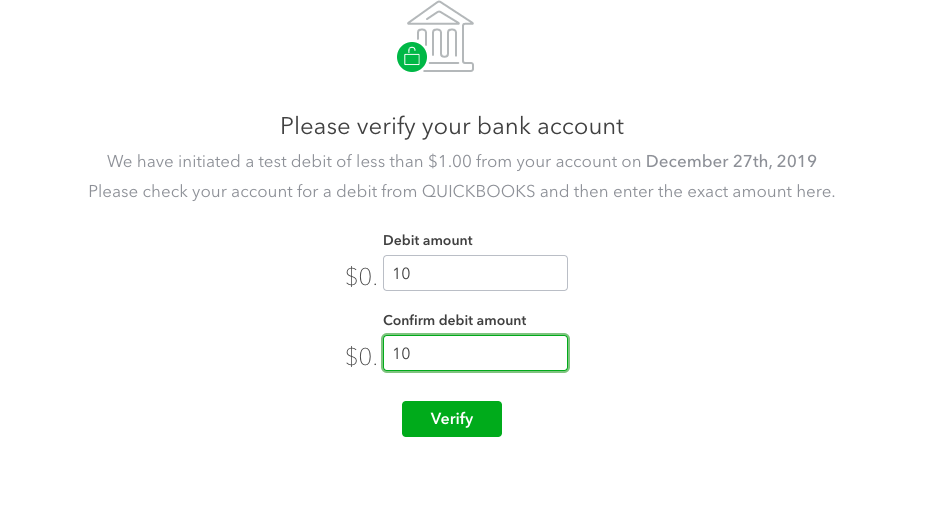 Search for your financial institution's name if you haven't linked any bank to your QB.
If you have linked it, click on the Add Account option available at the screen's top right corner. Then, search for the name of your financial institution.
From the list, choose the name of your financial institution.
Enter your credentials and select continue.
If needed, provide additional verification steps and then select the option Connect securely.
Select the bank symbol available at the left of the account that you want to connect.
Further, choose the account type from the drop-down menu for selecting the bank type or credit card account.
Once you have linked your account, QuickBooks will download all online transactions over the last 90 days. Besides, it will also download the banking and credit card transactions.
Then, click on connect. It will also take a few minutes to function.
You will be directed back to the banking page once the download completes.
Lastly, you have to review the tab that includes transactions downloaded from your financial institution.
Read more: Verified Solutions to Fix QuickBooks Online Login Problems on Chrome
Step 4: Check Both the Account Information & Notification
If you can perform activities like logging in successfully, see a message, notification, or warning from your bank that says, "Something is not working as much as you want." Also, keep track of your account summary, account history, and account transactions without any hassle.
Also, It may take up to 2-3 days for your bank to resolve any such issues from their end so you should wait for at least 48 hours. If the issue persists, Contact our Expert team.
Step 5: Make sure that Your Account is not New to the Bank
You might sometimes end up with this issue when your account is new to the bank or credit card. Some new accounts do not work effectively with online banking. Therefore, if you have such an issue, then you must contact your bank.
Need Expert's Assistance!
The methods mentioned above would have undoubtedly helped you resolve QuickBooks error code 102 without any trouble. If you are still stuck with it due to any reason, then we suggest you take the guidance of our experts by giving us a call on Asquare Cloud Hosting Helpline Number. Our professionals will provide you with immediate assistance.
QuickBooks Bank Error 102 FAQs:
1. Why is my QuickBooks self-employed getting temporary connectivity issues with Wells Fargo error 102?
It's because of some issue with the wireless network with the OS or wells Fargo bank is having some issue at their end.
2. Why is Merrill Lynch bank facing QuickBooks online error code 102?
It is because of damaged network equipment or due to the financial institution website issue.
Related Search Terms
mac software update error 102, error 102: add bank account in QuickBooks online,
Summary
Article Name
How To Fix QuickBooks Error Code 102- QBO Won't Connect To Bank.
Description
If you face Error: QuickBooks online bank account not updating or won't connect while transferring data between bank website & QBO. Hence, in that scenario, we suggest connecting to our expert to know your system requirement to update your bank account (PNC Bank, Bank of America etc.) & fix QuickBooks Error Code 102.
Author
Publisher Name
Publisher Logo