Like several other applications, QuickBooks also provides a trial version of their software which, as the name suggests, is for trial purposes. If you're somebody who's confused about which accounting software to go for, then you must sign up for the free trial. It will help you understand the features and thus, you can test the software for its efficiency and speed. You must buy the product before the 30-day trial period expires to continue using the product. On purchasing the software, you receive valid purchase credentials, such as the Product number, license number, validation code, etc. You can register your QuickBooks product with Intuit using these credentials. Once the trial expires, you are required to reset your QuickBooks registration to continue using the software. Before you begin to do that, you must understand a bit about the QuickBooks registration file i.e. QBregistration.dat.
Looking for advanced ways that can help you re-register QuickBooks application? If yes, you must get in touch with our experts by dialing Asquare Cloud Hosting Helpline Number at +1.855.738.0359 & extending the QB trial period.

A Brief On What Is QuickBooks Registration File
QBregistration.dat is a QuickBooks registration file in which all the information related to license and product registration is stored. This helps to verify the validity of the product every time you open QuickBooks. It acts to support the authenticity of your product. The file is usually hidden in Windows and can be found by following the file path:
C:\ ProgramData\ Common Files\ Intuit\ QuickBooks
Make sure to edit the Install ID and License Number in the QBregistration.dat file while you begin to reset QuickBooks registration. However, the detailed steps to edit and replace the license registration information in QuickBooks registration file have been discussed in the later section of this blog.
Important Factors To Reset QuickBooks Registration Timer
Below we have mentioned all the major considerations that you must take into account to avoid any issues while you reset QuickBooks registration timer:
To register your product with Intuit's server, it's important to have an active internet connection.
Your company file won't be affected while trying to reset QuickBooks registration.
Make sure to keep your registration details, such as the Product code, License number, and validation code, handy.
You can get all the information related to your License and Registration through Intuit's CAMPS portal. CAMPS stands for Customer Account Management Portal, developed by Intuit to provide valuable details to QuickBooks Desktop users. If you don't have it, follow the below-given instructions: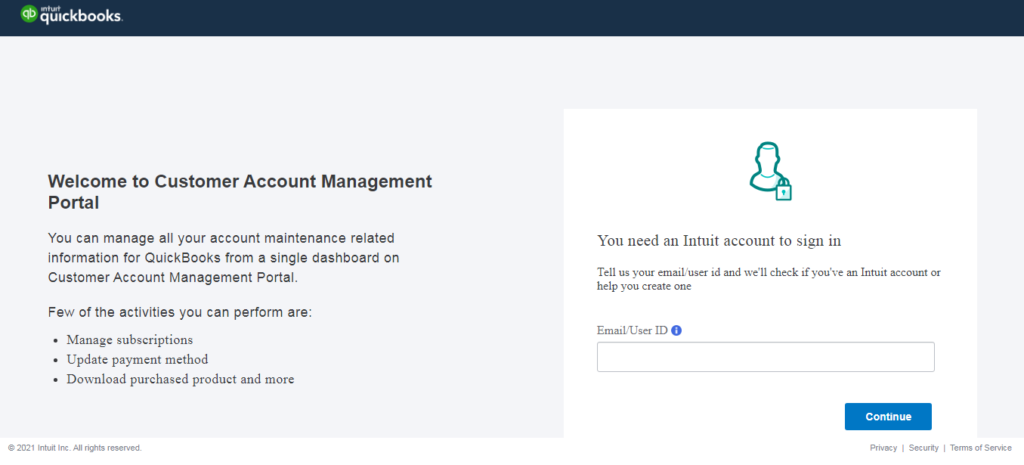 You will receive a purchase confirmation email if you purchase the product online. You can find the license number and concerned product information in this email.
However, on buying a physical CD of the QuickBooks program, you can find a bright sticker pasted on the original envelope.
If you are somebody who has subscribed to the monthly or annual plans, then you will get an email that has the license and product information.
Now that you have the product information, you may try to reset the QuickBooks registration of your product.
How To Reset QuickBooks Registration?
Below we have mentioned all the possible methods that can help you to reset QuickBooks trial period on your system:
Method 1: Create QBregistration.dat File
One of the effective ways to reset QuickBooks desktop registration is by creating QBregistration.dat File. You may do this by following the below-given steps:
Firstly, close your company file and then, shut down all the active windows of your QuickBooks application.
Simultaneously press Windows + E keys to open the file explorer window.
After that, go to your C drive and move to the installation folder of your QuickBooks application. You can locate it by following this file path: Programdata> Common Files> Intuit> QuickBooks.
Right-click on the empty screen when you are inside the folder and hover over the 'New' option.
Method 2: Create a New Text Document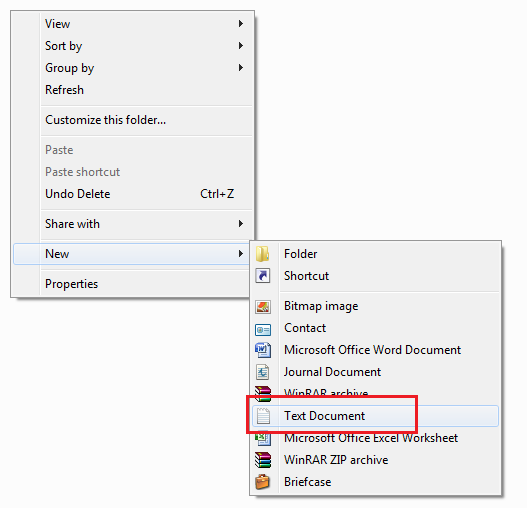 From all the options provided, click on Text Document.
Further, you have to copy the following text in the Notepad window that opens up.
Note: Users who have QuickBooks Pro should replace xx.x with Pro. Moreover, put 20.0, 29.0, and 28.0 instead of xx. x for QuickBooks Desktop 2020, 2019, & 2018 versions respectively.
Now, instead of the zeroes at the first six places of the second line, enter the number provided to you as your Product ID.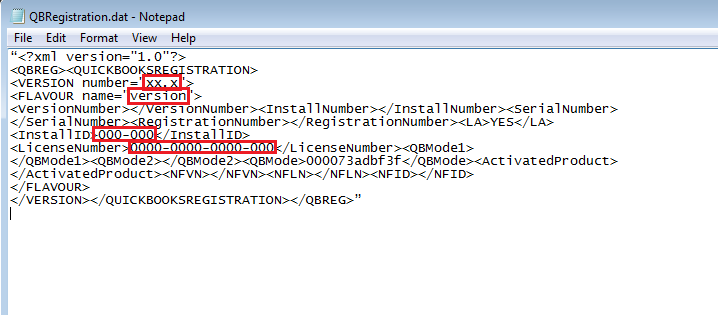 Whereas, the next series of 15 zeroes will be replaced by your product license number.
Make sure to not remove any characters in the text, such as the dashes (–).
Now, go to the File menu of your Notepad window and click on Save as.
Then, enter qbregistration.dat in the Name column and All Files in the Save as type option.
Lastly, save your file by clicking on Save.
Read Also: QuickBooks Auto Data Recovery- Recover Lost & Damaged Data
Method 3: Renaming the Registration File to Recreate it
To reset QuickBooks registration, you may try to rename the original QBregistration.dat file. On renaming the file, QuickBooks won't be able to identify the file and thus, you have to register it again. When you register, a new QBregistration.dat file is created automatically. To rename, you may follow the below-listed steps:
At first, you have to close all the company files that are running in the background. Besides, you need to close the QuickBooks Desktop application as well.
Now, click on the Windows icon and search for Windows Explorer.
Open the explorer window and go to the C drive by following the file path to reach QuickBooks installation folder: C:\ProgramData\Common Files\Intuit\QuickBooks
Further, allows you to view the hidden files and folders and then, go to the QBregistration.dat file. Alternatively, you may find it through the Search option as well.
Right-click on the file and click on the Rename option.
Add .old at the end of the file name and press the Enter key. It will make your old file unidentifiable.
At last, QuickBooks will ask you to register the QuickBooks application once again.
Summing It Up
We have covered all the effective methods that can help you reset QuickBooks registration without any hassle. However, if you get stuck while following the above-listed methods and need any further assistance, we would suggest you give us a call at Asquare Cloud Hosting Helpline Number at +1.855.738.0359. Our experts are available round the clock to help you with any QB-related query.
Reset QuickBooks Registration FAQs
1. How do you delete a QuickBooks registration file?
Ans. You can delete the "qbregistration.dat" file in the QuickBooks installation directory to remove the registration file. Ensure back up important data before making changes to ensure data integrity.
2. How can you reset a company file in QuickBooks?
Ans. Open QuickBooks, go to "File" > "Open or Restore Company" > "Open a Company File." Choose the company file to reset, then select "Open" and follow the prompts to create a backup and reset. Be cautious as this action cannot be undone, and data will be replaced with the backup.
Summary
Article Name
You Won't Believe How Simple It Is To Reset Quickbooks Registration!
Description
Untangle the complexities of QuickBooks registration reset. Our expert guide provides simple, easy-to-implement steps to say goodbye to any QuickBooks woes!
Author
Publisher Name
Publisher Logo