QuickBooks desktop cloud hosting provides many advanced features that can make business accounting a cakewalk. The Desktop version of QuickBooks is installed on the server so that the authentic users can access the content. It is referred to as QuickBooks Hosting on the Cloud. The QuickBooks Desktop has its data on the local system, which you can't access from another place. This blog entails all the information about the QB Desktop Cloud Hosting.
How Is Cloud Hosting for QuickBooks Desktop A Better Business Idea?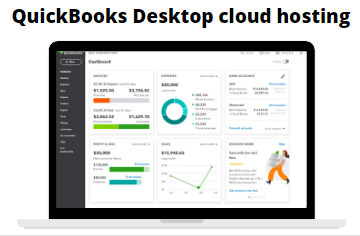 1: QuickBooks Cloud VS QB Desktop: Cost-Effectiveness
Hosting QuickBooks in the Cloud needs a specialized IT infrastructure as it saves a lot of time and money.
QuickBooks cloud hosting costs more. But, the Cloud offers many advantages to business owners and accountants. The remote access and automated features in a cloud-hosted QuickBooks not only save user's time and efforts but also make business accounting accurate and straightforward.
2: QuickBooks Cloud VS QB Desktop: Data Backup & Recovery
If using Cloud Hosting, you need to keep a back-up of data to prevent an accidental loss. Also, automatic data can set up when the back-up location is accessible to you.
Cloud backup your data regularly and secure it on data centers. QuickBooks hosting providers can help you to recover your QuickBooks data in case of a data-disruption.
QuickBooks Cloud VS QB Desktop: Customer Helpline
3: QuickBooks Cloud VS QB Desktop: Customer Helpline
You get 30-day free help during the trial period of the QuickBooks. If subscribed, you get assistance from a QuickBooks ProAdvisor.
With QuickBooks cloud, round a clock helpline is provided. Full service for the troubleshooting issues served.
4: QuickBooks Cloud VS QB Desktop: Accessibility
Physical presence is needed to access the data. The access of QuickBooks Desktop tied to a single PC. Internet connection is not required.
QuickBooks Desktop on a cloud server gives the flexibility to access the data from anywhere. You need a compatible device and an Internet connection
QuickBooks Cloud VS QB Desktop: Data Security
5: QuickBooks Cloud VS QB Desktop: Data Security
Data stored on QuickBooks Desktop have security threats such as data theft.
Data on a cloud stays secured by password protection and other security standards. Back in time, it was easy to reset the password of QuickBooks. But people started abusing this utility. So, the password reset is a hard nut to crack for unauthorized users.
How Is The QuickBooks Desktop Cloud Backup Advantageous?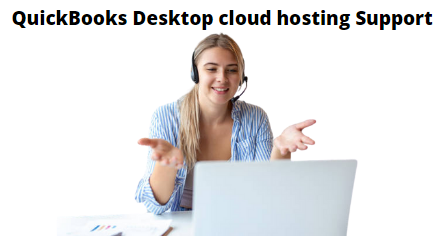 You can reap the following benefits for Hosting QuickBooks on the Cloud.
Enhanced Security – data loss can hamper business growth. Financial data and the network of the files stored with desktop cloud back-up. With a reliable QuickBooks hosting provider, cloud-based disaster recovery is extremely safe. Encrypted data transfer prevents the process from people with wicked intentions.
Faster Data Recovery – QuickBooks data back-up maintained by the Cloud Hosting Provider is a reliable way for faster QuickBooks data recovery. The off-site data centers in the cloud hosting include applications, data-backup, resources, and operating systems. Data centers are located across the geographies so that even the worst natural calamities can't damage the back-up. In case of data loss, you can get the recovery done by the service provider in a minute's notice.
Scalability – Hosting QuickBooks in the cloud back-up offers a solution to the businesses. You can adjust storage capacity with varying needs. The precise storage is not worried until you need to exceed the requirements while scaling the business.
Cost-Effective – QuickBooks will not ask you to build high-end IT infrastructure or hire IT professionals for server maintenance. When QuickBooks Desktop cloud back-up exists on a remote server, you can save a bundle and invest in the other high-yielding areas of your business. You must have hears the phrase, A penny saved in the market is a penny earned.
How Does QuickBooks Desktop Cloud Hosting Backup Work?
With QuickBooks hosting features, the business owners and accountants can easily store and access their business data. The data and files exist on different servers. Multiple users can access the data simultaneously from authorized storage. Your provider ensures that the back-up of your accounting data is stored securely on different data-centers. With that, it takes care of the latest updates and upgrades so that you can make the most out of your hosted QuickBooks. Furthermore, you can avail of the clock help to troubleshoot issues related to QuickBooks Desktop hosting.
Need More Assistance?
With our QuickBooks Cloud Hosting solutions, you can avail of all your QuickBooks products and resources organized in a cloud environment. Installation of the software on the cloud and troubleshooting issues is the additional part of our QuickBooks desktop cloud backup service. For immediate help and assistance, call us at (855)-738-0359.