QuickBooks has been a leading software for accounting purposes around the world. It has greatly helped in streamlining various businesses activities. The only issue users face with QuickBooks is the high number of errors. One such Error that the application commonly runs into is QuickBooks Error QBW32.exe. There are a variety of reasons why your system might run into this Error. We will guide you through different ways by which you can solve this issue.
What is QuickBooks Error Code QBW32.exe (Application Error Message)?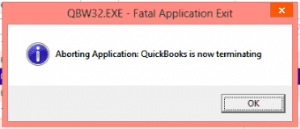 The QuickBooks runtime error qbw32.exe is a clear indication of some damage in company files. Whenever you run into this error, a warning message will flash on your screen during the printing process or while accessing QuickBooks. You may have seen this issue after downloading and installing the most recent QuickBooks release update. It has essentially to do with a file linked to the payroll value and the QuickBooks pro software for the Windows operating system.
What are the reasons for the QBW32.exe File Error?
Several factors are causing this problem, and each one could have its solution. Here are the main reasons causing this Error that you should know-
The file QBWIN32.DLL is missing from the QuickBooks directory.
QBW32.exe no longer exists in the QuickBooks directory.
The company file name is too long
QBWUSER.INI file is corrupted.
The hard drive you are using is corrupted
Windows operating system is causing an issue
QuickBooks Desktop is not correctly installed.
The version you are using is outdated
You are using the wrong methods to open the file
How to fix the fatal application exit caused by QBW32.exe Error?
QBQ32.exe Error is not very difficult to solve. You can try the troubleshooting methods below which include rebooting the machine, stopping the QBW32.exe file from running, disabling QuickBooks Desktop, installing QuickBooks Diagnostic tool and other solutions. Let's look into it-
Solution 1- Reboot Your System
Rebooting your computer is a simple approach to resolve this issue. It will restart your computer from the beginning. Access QuickBooks after your computer has restarted.
Solution 2- Run QuickBooks install Diagnostic Tool.
The primary step in this process is to run the QBinstall tool and run your application with it to ensure that there was no error while installing the QuickBooks-
Download QuickBooks install diagnostic tool
Save your company file when the prompt appears.
Now click on All programs and run the QBInstall tool
The process will take some time based on how fast your internet speed is and how good your computer's performance is.
Reboot your computer after the process is complete.
Solution 3: Stop QBW32.exe in the task manager
There is a possibility that QBW32.exe is running in the background and thus causing QBW32.exe file error. You need to shut it down in the task manager in order to fix the issue-
Press right-click and select Task Manager
Click on the Process tab
Sort the results alphabetically, go to the Image name header.
Press the End Process button
Search for QBW32.exe
Press the End Process button
Solution 4: Suppress QBD
Suppressing QuickBooks can help you in resolving issues arising due to QBW32.exe. You can suppress QuickBooks using two different methods- while opening the company file and launching the application-
While launching the application-
Keep the Ctrl key pressed on your keyboard and Double click on QuickBooks Program
Hold down the Ctrl key until the No Company Open popup appears on your screen.
While opening company file-
Choose your Company file from the No Company Open screen.
Press Alt key
Now press the open button
Click on OK
You can disable QuickBooks Desktop this way. Now make sure you don't let go of the Alt key until all of your company files are open.
Solution 5: Repair QuickBooks Desktop
QuickBooks is an extensive application with a variety of programmes and thus is prone to many errors. As a result, you must repair QuickBooks Desktop using this procedure-.
Open Control Panel from Start menu
Click on Programmes and Features and then choose Uninstall a Program
From the Programs menu, choose QuickBooks, then Uninstall/Change.
Now press Continue or Next
Press on Repair and then Next
Note- Repair will start instantly but will take a while to finish.
Press on Finish once the process is over
Now you can manually repair "Microsoft components." which are Microsoft Visual C++, Microsoft MSXML, and the Microsoft.NET Framework.
Run the reboot.exe file 
Read Also: How To Backup QuickBooks To Flash Drive & Transfer Data To Thumb Drive?
Solution 6: Perform a Clean QuickBooks Install.
You must uninstall QuickBooks Desktop, rename the QuickBooks folder, then reinstall the compatible version of the QuickBooks programme on your computer to begin this clean install process.-
Uninstall QuickBooks Desktop from the control panel
Search for Control panel in the windows search bar and open it
Click on Programmes and Features
Now select Uninstall a program
Choose QuickBooks from the list of programs
Press the Uninstall/Change button
Click on the Remove button
Press on Next
Rename installation folder
In order to find the location, you need to go to the following locations-
C:\Users\(current user)\AppData\Local\Intuit\QuickBooks (year)
C:\ProgramData\Intuit\QuickBooks (year)
64-bit version C:\Program Files (x86)\Intuit\QuickBooks (year)
C:\Program Files\Intuit\QuickBooks (year).
Now press right-click on the folder. Select the Rename option and add .old at the end of the name.
Reinstall QuickBooks Desktop
Depending on your Windows operating system, download the QuickBooks software
Save the file QuickBooks.exe. where you want it.
Follow the steps appearing on your screen
Accept the License Agreement and move on to the next step by pressing the Next button.
Add the Product and License Key
Click on the Next button
Consult With Experts To Fix QuickBooks Application Error QBW32.exe
We hope that the above-mentioned solutions can help you in resolving QuickBooks fatal error qbw32. It can be caused by a variety of factors and the above-mentioned solutions can surely help you in fixing it. If you are someone who owns a business, surely give QuickBooks a try as it can smoothen your day to day functions. Contact our Asquare Cloud Hosting Helpline Number and they will help you out in solving Application Error QBW32.exe.