One big reason why QuickBooks is famous among businesses is the accessibility options they provide to their customers. QuickBooks offers an option to access all the features through the internet, but sometimes this feature might malfunction due to QuickBooks error 12157. It occurs because of web connectivity problems in the Windows operating system with Microsoft Win32 Internet, commonly known as WinInetAPI.
QuickBooks uses this API to access Internet Protocols like FTP, HTTP, and Gopher. The QuickBooks Error 12157 usually happens when you're downloading or installing software updates. Due to Intuit QB Error 12157, you will not be able to update your QB application, which can be problematic in the future.
A lot of things we will mention below are technical in nature and a little difficult to follow for anyone who does not come from a technical background. If you face any difficulty in working on any of the mentioned steps, we will advise you to contact Asquare Cloud Hosting's expert team at +1(855)-738-0359, who will guide you in all possible ways.  
What leads to QuickBooks error code 12157? 
The primary causes of error 12157 in Quickbooks revolves around internet settings and QB files on your system. The possible reasons leading to this error are-
QuickBooks is unable to connect to the server due to a restrictive Firewall or Internet security settings.
Multiple QB versions are downloaded on your system, which belongs to the same year.
Poor Internet connection.
Your QB file got corrupted due to a malware attack.
Incorrect Time and Date.
What are the troubleshooting steps for QuickBooks update error 12157?
We discussed multiple reasons why QuickBooks Desktop update error 12157 might occur, now, let's look at what are the steps you should follow in case you run into it. Remember that there are multiple reasons why this error can occur, and thus there are different methods to fix this error. What method will work for you depends upon what is causing the error in your system. If you know the issue with your system, jump to the related solution; otherwise, follow them one by one.
Solution 1: Change Advance Settings
Restoring Advanced settings in QuickBooks is the easiest way to fix QuickBooks error 12157. Follow these steps in order to do so:-
Close QuickBooks if it is running on your system.
Run Internet Explorer and choose Tools from the Menu bar.
Now select the Advanced tab from Internet Options.
Tap on Restore Advanced Settings.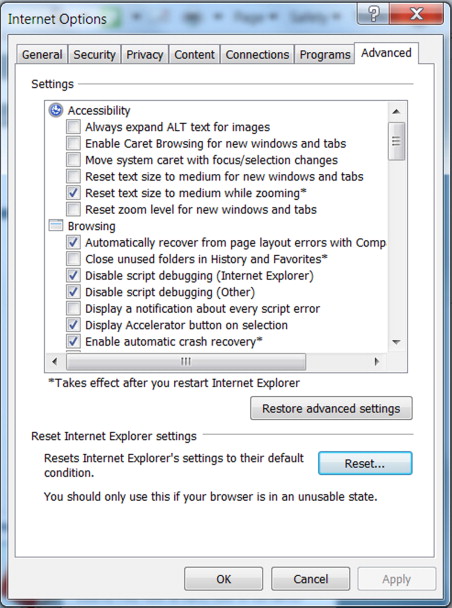 Solution 2: Change Firewall or Internet Security Settings
As we mentioned, your firewall can restrict access to the application leading to QuickBooks network connectivity error 12157. Follow these steps in order to allow programs through the Windows firewall:-

Tap on the Windows start button and click on Control Panel.
Click on System and Security and choose Allow programs through Windows Firewall.
An allowed Programs dialog box will appear.
Add a checkmark on-

QBDBMgrN.exe
QBW32.exe
QBGDSPlugin.exe
FileManagement.exe
Click on OK to apply settings.
Solution 3- Set the Right Date and Time
You can run into QuickBooks update error 12157 if your system has the wrong date or time. You can manually adjust both of them. Follow these steps in order to do so:-
Right-click on time and date in the bottom right corner of your desktop.
Choose Adjust Date/Time.
Now manually rectify the date and time on your screen.
Tap on Ok to apply the changes.
Solution 4: Restart QuickBooks Application
If two different versions of QuickBooks are running on your system, you might face this error. If so, close down both applications and restart the application reflecting error 12157 in QuickBooks.
So this has been all about QuickBooks maintenance release error 12157. We discussed all the factors that led to it and its possible fixes. QuickBooks is highly useful software in managing your day-to-day accounting transactions. In case you face any difficulty following the given instructions. We will advise you to reach our expert at Asquare Cloud Hosting Helpline Number +1(855)-738-0359 in order to ensure that you don't lose any data.