Connecting your QuickBooks company file and your financial institution is a crucial feature of QB. It allows users to download transactions directly through the QB app. At times users may not be able to use this feature due to QuickBooks error 377. It arises in just the Online versions of QuickBooks. The users need to update their connection between QuickBooks and the bank. The error message associated with it is:-
The old connection is gone. Reconnect now with the new faster, more reliable one and get back on track. (377)
Do you need help downloading your transactions in QB and fixing QuickBooks Online banking 377? Just dial +1.855.738.0359, and an expert will provide you with step-by-step guidance.
Resolve QuickBooks Error 377
There are 2 ways through which users can surpass QuickBooks error 377 and download transactions within QB itself. You can either update the bank connection in QuickBooks online or use Web Connect to download the bank transactions. The detailed steps you need to follow are:-
Solution 1- Update Bank Connection in QuickBooks Online
Updating your bank connection within QBO will fix Banking Error 377 in QuickBooks Online. These are the steps you need to follow:-
Run QuickBooks Online and go to the Banking menu.
Then choose the Banking option from the list.
Go to Let's fix this bank connection banner and tap on the Update Now button.
Now follow the onscreen instructions and complete the update process.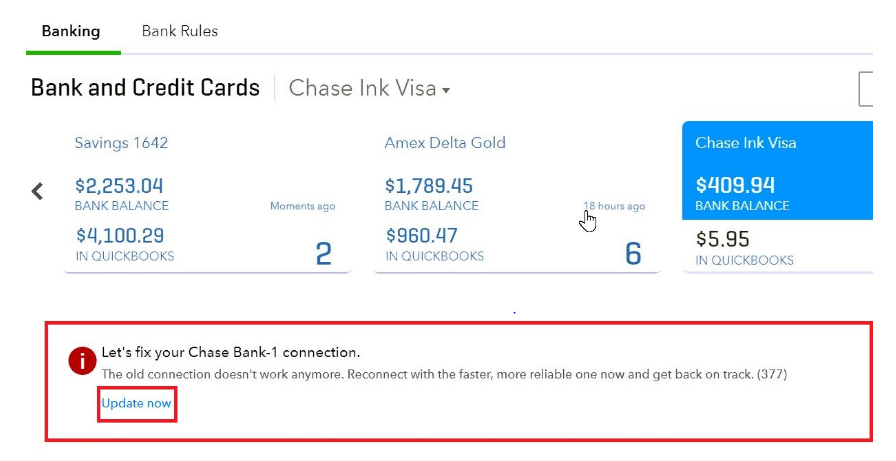 Solution 2- Use WebConnect And Download Transactions
This solution can help you bypass QuickBooks error code 377. You can download the transactions from your bank website and upload them to QuickBooks. These are the steps you need to follow:-
Use a supported browser such as Google Chrome, Internet Explorer or Mozilla and log into your Online Bank account.
Go to the Date Range section and set it as per your needs.
Download the transactions in .QBO format.
Now Login to your QuickBooks Online account in a different tab.
Click on the Banking tab on the left and select Banking.
Go to the Update menu and tap on File Upload.
Click on Upload Transactions Manually if you are connecting an account for the first time.
Tap on the Browse button, navigate the file you downloaded from your banking website and select it.
Then click on the Next button and tap on QuickBooks Account.
Choose the account on which you want to upload the data, you can also add a new account by tapping on Add New.
You need to click on the Gear icon and select Import Data present under the Tools tab.
Click on Bank Data and then press Next.
Finally tap on Let's go and finish the process.
So this has been all about QuickBooks error 377. While updating the connection between QuickBooks and financial institutions helps you resolve banking error 377 In QuickBooks Online, using Web Connect allows you to download the transactions. If you are still unable to download the transactions, reach out to an Asquare Cloud Hosting Helpline number at +1.855.738.0359 and they will guide you on how to fix it.