QuickBooks has been helping businesses run payrolls around the world. Sometimes users fail to run payroll in QB due to QuickBooks error code 9000. The primary reason for this error is internet issues and internet security software blocking the transmission. As your internet connection is majorly responsible for this error, there is a possibility that this issue will reoccur on your system even after fixing it. Users generally run into it when running payroll on the desktop application. The error message that appears on the screen is:-
Error 9000 or Payroll connection server error. Please try again later.
Unable to run payroll due to QuickBooks error code 9000? Simply contact Asquare Cloud Hosting's expert team at +1(855)-738-0359, and they will guide you on the easiest way to resolve it. 
Reasons for QuickBooks Error 9000
Users witness QuickBooks error 9000 when the application is unable to connect to the internet. There might be a few changes required by your application that can also possibly trigger this error. The complete list of reasons for this error are:-
Your security certificate is invalid.
You are trying to run payroll in the multi-user mode
You are unable to connect with the server due to a network timeout.
The general internet connectivity problems can also lead to this error.
Incorrect internet or firewall settings are also one possible reason.
Your system has an incorrect date and time.
The application you are running is outdated.
You don't have the latest tax table.
The 7 Steps To Fix QuickBooks Payroll Connection Server Error 9000
The steps to fix QuickBooks payroll connection error 9000 involve making changes in your system settings and updating the application. Here are the detailed solutions to fix this error:-
Solution 1- Flush your Domain Name System
Cache files are created in your application when you access internet-related services containing information. Outdated data in these files can prevent QuickBooks from accessing the internet properly and lead to QuickBooks Error code 9000. Here are the steps you need to follow in order to flush it:-
Tap on Start and select All Programs.
Choose Accessories and tap on Run.
Type CMD in the run box.
Type ipconfig/flushdns in the Command Prompt.
Press Enter on your keyboard.
Solution 2- Ensure the Date and Time on your system is Correct
Your system faces connectivity issues if your system has the wrong date and time on your system. This is also one possible reason behind QuickBooks Payroll error 9000 and you can simply fix it by correcting them. These are the steps you need to follow:-
Go in the bottom-right corner of your desktop where you see time and right-click on it.
Click on Adjust date/time from the list.
A new window will open and click on the Date and Time tab on the left side of the window.
Tap on Change under 'Change date and time'.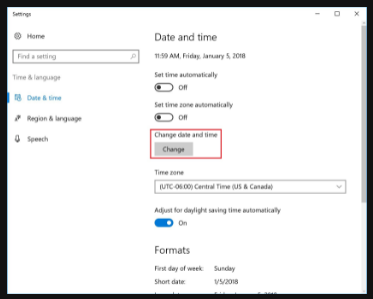 Note:- Ensure that Set time automatically and Set time zone automatically must be Off so that you can change it.
Enter the correct date and time and tap on Change.
You will now see that the system also has an updated date and time.
Solution 3- Correct your Internet and Firewall Configuration
The firewall in your system is responsible for blocking internet access to applications. QuickBooks error code 9000 can arise on your system if you don't have the required configuration for the internet and firewall. There are many things that need to be done to ensure that there is no hindrance with your internet. Click here for detailed guided steps you need to follow.
Solution 4- Clean your Disk
Damaged and old files in your system lead to Error 9000 in QuickBooks. You need to perform a disk cleanup so that it can remove the unnecessary files from your system:-
Tap on the start button and type the command in the search box.
Press the Ctrl+Shift keys and press Enter button.
Select Yes in the permission dialogue box.
Type cleanmgr in the black box with a blinking cursor.
Disk cleanup should start and you need to choose drives one by one. It will start cleaning unwanted files.
Solution 5- Publisher Certificate Revocation
Invalid security certificates lead to QuickBooks Error 9000, and it is important that you have a certified version of it. In order to check the Publisher's Certificate revocation, follow the given step:-
Run Internet Explorer and tap on Internet Options from the tool menu.
Now tap on the Advanced tab.
Go to the Security option and clear the Check for publisher's certificate revocation box.
Tap on OK.
Now restart your system and try to run your payroll again.
Solution 6- Update QuickBooks
Outdated application is also a reason for QuickBooks error code 9000. Try updating your application and check if it persists or not:-
Close your company file along with the QuickBooks application.
Now go to the start menu and search QuickBooks.
Right-click on the application and select Run as Administrator.
Now tap on the Help menu in the No Company open window and choose Update QuickBooks Desktop.
Go to the Options tab choose Mark All and then select Save.
Click on the Update Now tab and tickmark the Reset Update checkbox.
Click on Get Updates.
Now, wait for Updates to get downloaded and rerun your application.
Click on yes when the install updates prompt opens up.
Restart your computer after the installation process if over,
Solution 7- Use QuickBooks Tool Hub
If QuickBooks Error 9000 arises because of some sort of damage in your file or component, QuickBooks Tool Hub can fix it. These are the steps you need to follow:-
Without opening the Company File, start the QuickBooks Desktop application on your PC.
Tap on the File menu and then go to the Utilities section.
Press the repair File and Network Problems option.
Run the company file through browsing or putting in the file address.
Tap on Show Advanced Settings and choose the type of repair option from the list.
Enter your login credentials and press the Next button.
Ask An Expert On How To Fix QuickBooks Error Code 9000
So now we assume that you are well versed in what shall be done when QuickBooks Error 9000 appears on your screen. We discussed multiple methods to fix it, but if you are still stuck with this issue after all these steps, reach out to our experts at Asquare Cloud Hosting Helpline Number +1(855)-738-0359 and they will help you guide you in a better manner.