QuickBooks Desktop is a technologically advanced software that comes with a lot of features and benefits. But like any other software or application, it does have issues. And Quickbooks error message 80029c4a is one of them.
There happen to be a lot of reasons or causes of this problem but QB error code 80029c4a is one of the most annoying errors. It usually occurs when the users try to launch the QB desktop on Windows. Thus, you won't be able to perform the accounting tasks seamlessly.
When the issue occurs, an error box pops up on your screen to notify you about its existence. Therefore, it's essential to resolve the error code as soon as possible to prevent further damage. We have listed the possible causes and their troubleshooting methods in this blog to help you with that.
If your QuickBooks Encounters Error 80029c4a or is unable to Load Dynamic Library, then Contact Asquare Cloud Hosting's expert team for instant help.

What Is Meant By QuickBooks Error Code 80029c4a?
When the error 80029c4a in QuickBooks takes place, you won't be able to access the application, and an error message will pop up:
"Problem: There was an unexpected error reported when trying to run QuickBooks with company file."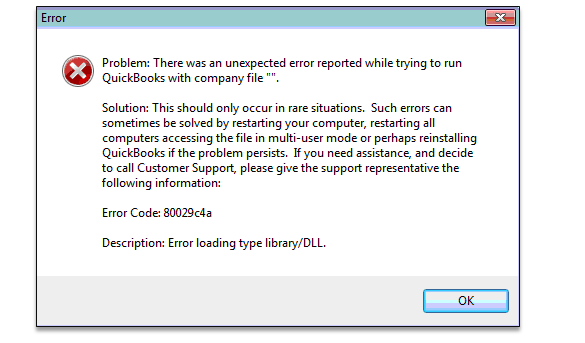 When you click on OK inside the error pop-up window, another pop-up window will open up with an error message:
"QuickBooks couldn't load a system component. Restarting your computer might solve the problem. Error type: 80029c4a – Can't load dynamic link library (DLL)."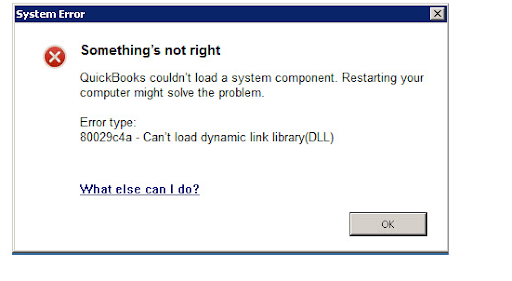 It may also occur when the QB component doesn't work or if you have missing or corrupted Dynamic Link Library files. There are several other reasons as well that trigger this error code 80029c4a in QuickBooks. Let's go ahead and have a look at all such reasons.
What Brings Forth QuickBooks Error 80029c4a?
Various reasons trigger the 80029c4a error code in QuickBooks 2011-2018 versions. To make you aware, we have listed the common ones below:
You might have corrupted or missing QuickBooks desktop system files.
Corrupt or incorrect installation of the QuickBooks application can lead to QuickBooks error message 80029c4a.
There can be a corrupted Windows registry entry from a recent QuickBooks-related software modification like install or uninstall.
The Windows file system or any QB-related program files have been corrupted due to a virus or malware attack.
You might have accidentally deleted QuickBooks-related files.
You may end up with error 80029c4a in QuickBooks when the QuickBooks component doesn't start properly or if the DLL files are missing.
QuickBooks pro error code 80029c4a may occur on its own during Windows startup or shutdown or installing the Windows operating system.
Read more: Repair QuickBooks Error Code C=1304 -Writing To File In Windows
How To Identify QuickBooks Desktop Error Code 80029c4a?
You have to first identify an issue to resolve it. In that case, the below-mentioned symptoms might work for you. It will help you recognize the QuickBooks 80029c4a error, and thus, you can begin the troubleshooting process.
QuickBooks error message 80029c4a appears on your screen whenever it takes place.
When the user is stuck with this issue, it crashes the active program window.
Windows starts to run sluggishly.
The system freezes at regular intervals.
At times, QuickBooks enterprise error code 80029c4a pops up while installing the software.
You must keep track of when and how error code 80029c4a in QuickBooks desktop occurs to troubleshoot the problem because if you know the reasons you can easily resolve the error.
How To Get Rid Of QuickBooks Error Message 80029c4a?
The error has been removed from the application to release the latest updates of QuickBooks Desktop 2016, 2017, and 2018. However, if the error persists even after getting the latest updates, you must first restart your Windows computer. It might fix your issue as well. But if it doesn't happen, then you must follow the troubleshooting steps mentioned in the article to eliminate QuickBooks error message 80029c4a:
Method 1: Check your Antivirus Program's Quarantine Folder
From your antivirus dashboard, navigate to the quarantine folder.
Look for any files that have been quarantined from the QuickBooks installation directory.
Delete any QuickBooks files and restart the QuickBooks Desktop application.
If you get to see any of the below-given programs in your quarantine section, just allow it through the firewall.
| | | |
| --- | --- | --- |
| AutoBackupExe.exe | QuickBooksMessaging.exe | QBCFMonitorService.exe |
| Dbmlsync.exe | QBW32.exe | QBLaunch.exe |
| DBManagerExe.exe | QBDBMgrN.exe | QBUpdate.exe |
| FileManagement.exe | QBGDSPlugin.exe | IntuitSyncManager.exe |
| FileMovementExe.exe | QBServerUtilityMgr.exe | OnlineBackup.exe |
Note: If you are unable to locate these files for allowing them through the firewall; here is the route bath that you need to follow.
C:\Program File\Intuit\Quickbooks (year). And the files that are of (x86) at this location, should be allowed. And if you are able to see the error even after this, just head to the next step.
Method 2: Reinstall QuickBooks using the Clean Install Tool
If you want to get a fresh installation of QuickBooks on Windows, you must download and install the QuickBooks Clean Install Tool. Once the installation completes, double-click on the Clean Install tool icon on your desktop and follow the on-screen instructions. Before implementing this method, you must take a backup of your company file.
Method 3: Perform an Update of your Antivirus Program
You have to open the antivirus program installed on your Windows system. Then, under the settings, select the option to update its virus definition.
NOTE: There is a unique interface for every antivirus program. Hence, it is not possible to list down a single method that will help you find the update setting of every antivirus program. Therefore, you have to manually search for your antivirus program's update settings to follow this resolution method.
Have the above solutions helped you eliminate QuickBooks error message 80029c4a? If not, then you don't need to worry! Proceed to the next one.
Also read: Download & run QuickBooks clean install tool with easy
Method 4: Reboot your computer using the Reboot.bat file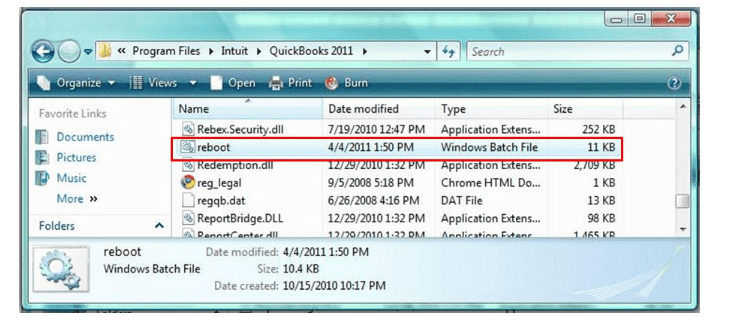 Firstly, you need to open the QuickBooks installation folder on your computer.
Then, right-click on the Reboot.bat file and select Run as Administrator.
Once Reboot.bat registers all your files in the Windows directory, you have to restart your Windows and then open the QuickBooks Desktop application.
Method 5: Repair QuickBooks Desktop Application on Windows
Simultaneously press the Windows + R keys to open the Run window.
In the Run window text box, you have to type Control Panel and press the Enter key.
Then, click on Programs and Features.
From the program installation list, select QuickBooks.
Now, select Uninstall / Change> Next> Repair.

To complete the repair process, you have to follow the on-screen instructions.
Once the repair process completes, restart your windows and open the QuickBooks application.
Method 6: Using the Windows system file checker for your Quickbooks
If none of the above methods work for you just use this solution to fix the error.
Firstly you will have to start the process by clicking on the "start menu" and then typing "command" in the search box.
Then just select "Ctrl+ Shift" keys on your keyboard and then press the "enter" button.
As soon as you do all this, there will be a permission box on your desktop. And here the users will have to choose "Yes."
Now, you will have to type "SFC/Scannow" and then click on "enter."
You need to wait for some time for the "time system and file checker" to complete their process.
Now, you will just have to follow the on-screen prompts to fix the problem.
What to Do if Unable to Get Rid of the Issue?
We hope the troubleshooting methods mentioned in this blog have helped you eliminate QuickBooks error message 80029c4a without any hassle. If the error persists, we suggest you give us a call on our Asquare Cloud Hosting Helpline Number at +1.855.738.0359. Our experts are available round the clock for your assistance.
Intuit Error 80029c4a FAQs:
1. Why do I get QuickBooks error 80029c4a while trying to update?
It is because of a Corrupt/incorrect installation of the QuickBooks application.
2. Why am I stuck with QuickBooks Pro error 80029c4a?
Mainly because of a corrupted Windows registry entry from a recent QuickBooks-related software modification like installing or uninstalling.