Intuit allows users to run their company files through a server, and many workstations can access it. Sometimes users may not be able to log into their company file due to a QuickBooks server busy error. It generally occurs because multiple programs are running in the background, compromising QuickBooks' performance. The error message that appears on the screen is:-
Fix Error: Server Busy. This action cannot be completed because the other program is busy.
Are you unable to run your company file because of a server busy error in QuickBooks? Contact an expert at Asquare Cloud Hosting Helpline Number at +1-855-738-0359, and they will advise you on how to fix it.
Causes Of QuickBooks Desktop Error: Server Busy
Problems with your QuickBooks application or system resources are the major reasons behind 'QuickBooks Desktop error: Server busy'. The complete list of reasons is as follows:-
Too many programs are running in the background.
You are using an outdated QuickBooks application.
Your QB application files are damaged.
Many workstations are established to host your company file.
Your system does not have sufficient resources.
A third-party application is interfering with the QuickBooks application.
Troubleshooting for QuickBooks Server Busy Error
There are 5 different solutions to fix the QuickBooks Server Busy Error, which involve making changes to your QuickBooks application and Windows system. Let's look at these solutions in detail:-
Solution 1- Close Running Programs
Running many programs simultaneously affects your system's performance. It can also be one reason for server busy errors. These are the things you need to take care of:-
Close any dialogue box that is open in any program other than QB.
Make your firewall and antivirus settings favorable to run QB.
Ensure you close programs such as Google Desktop, Windows Defender, Vista Security, and Pivot Software control.
Disable Spy Sweeper or run it on Gamer mode temporarily while running QBD.
Rerun your QuickBooks application.
Solution 2- Update your Windows
Outdated Windows can also lead to server busy errors in QuickBooks. You can simply fix it by updating the application. These are the steps you need to follow:-
Press Windows Start Button.
Click on the Settings button and a new window will open up.
Select Update & Security and click on Windows Update.
Now windows will start searching for updates and will download them if they are available.
Install process will also begin after downloading the update.
Restart your system after the update is installed.
Solution 3- Disable QuickBooks Automatic Update
QuickBooks automatic update running in the background utilizes certain resources and thus can possibly lead to 'QuickBooks error: server busy'. Follow these steps to disable it-
Press Alt+Ctrl+Del on your keyboard.
Choose Start Task Manager, and a new window will open up.
Go to the Startup menu, select QuickBooks Automatic Update, and click on Disable.
Disable shared updates in QuickBooks Desktop:

Run the QuickBooks application and go to the Help tab.
Choose Update QuickBooks and go to the Options menu.
Choose No for Share Download option.
Click on Close.
Solution 4- Run Quick Fix my Program
A damaged QuickBooks application is one possible reason for server busy error. Quick Fix my Program can help you fix those damages. You can find it in QuickBooks Tool Hub. Earlier QuickBooks Tool Hub was a stand-alone application, but since QBD 2018, it has come as a built-in feature of the QBD application. Steps to run Quick Fix my Program:-
Run QuickBooks Tool Hub and choose Program Problems.
Tap on Quick Fix my Program.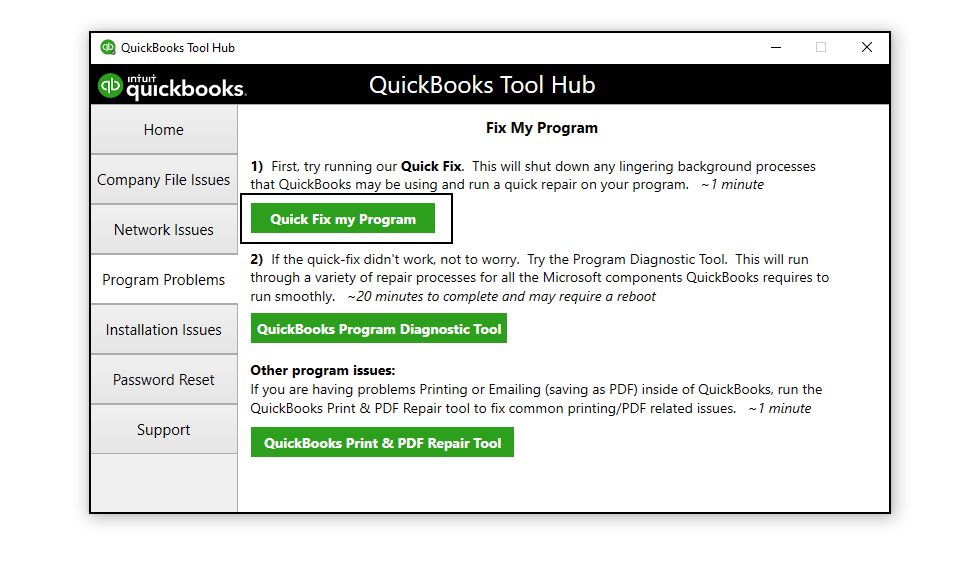 Run the QuickBooks Desktop application and open your company file.
Solution 5- Clean Install QuickBooks
Damaged QuickBooks applications can lead to server busy error messages in QuickBooks. One way to fix it is by uninstalling the application, using the clean install tool, and then installing QB again. These are the steps you need to follow:-
Create a backup of your company file if possible.
Write down the license number, product year, and its version.
Download a new install file for your QuickBooks product.
Now press the Windows start button and click on the Control Panel.
Choose Programs and Features or Uninstall a Program.
Now select QuickBooks Desktop from the list of programs and click on Uninstall/Change. Now follow the onscreen instructions to complete the uninstall process.
Note:- Try logging in with a profile having admin rights if this option is not visible.
Now run QuickBooks Tools Hub that you used for Quick Fix my Program.
Go to Installation issues.
Choose Clean install Tool and press OK.
Select the version and product of QuickBooks you were using and tap on Continue.
Click on Ok when the message ' Please install your copy of QuickBooks to default location' appears.
Now go to the install file you downloaded earlier.
Run that file and complete the installation process.
Additional steps
Jump onto these solutions if your QuickBooks server busy error is still not resolved. You will need advanced technical knowledge to follow these steps. Contact an expert at Asquare Cloud Hosting's expert team if you are not sure how to follow these steps:-
Boot Windows to SafeMode with Networking and then run QuickBooks Desktop. If the error is resolved, restart your system in normal mode.
Run QuickBooks Desktop in a Windows Selective Startup mode and ensure to turn off IntuitFCS.
Reconnect your system to all mapped drives if you run QuickBooks Desktop on a network.
If backup software is installed on the server or network, it may scan the hard drive and prevent access to QuickBooks Desktop files.

Disable the backup software temporarily.
If the problem persists, there is a problem with the scanning software. You can seek assistance from your system or network administrator, the retailer from whom you purchased the software, the manufacturer's or developer's website, or a local computer consultant.
So this has been all about QuickBooks server busy error. We hope that the recommended solutions are enough for you to fix this error. If you still have any doubts left, Contact Asquare Cloud Hosting's expert team at +1-855-738-0359 and they will guide you with further troubleshooting methods.