QuickBooks by Intuit is an accounting software built for simplifying the accounting task for small-sized businesses. It is also an efficient software in terms of scalability, reliability, and performance. But, like other software, users face specific errors and bugs that require external assistance. Earlier, for solving the error, the user downloads different repairing software, which results in only consuming time. Concerning this, QuickBooks offered a robust set of tools to resolve various issues and the name is QuickBooks Tool Hub aka QuickBooks Repair Tool. QB Desktop Tool Hub is a multi-functional asset that provides the user with all the necessary tools. Let's know in brief about QuickBooks Toob Hub Program and how to use QuickBooks tool hub.
Understand What is QuickBooks Tool Hub?
This tool contains a group of various other QuickBooks tools in a single application. It provides tools like Doctor, Condense Data Tool, QuickBooks PDF and Print Repair Tool, and others that require resolving the pervasive QuickBooks errors. In case any glitches interfere with QuickBooks, the users can use the specific tool from the QuickBooks Tool hub to fix the issue. It can also resolve the most common errors, like 152, 6189, 816, and many others.
Why Do We Need Tool Hub in QuickBooks?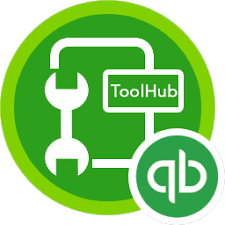 Before releasing the QB Tool hub, users faced an error while installing or executing a QB software process, and they have to use QuickBooks diagnostic tool individually. This process consumed a lot of time. This tool hub in QuickBooks can fix all the bugs and issues in QB. Besides fixing the errors individually, this tool is a one-stop platform to solve a number of QB errors, which we will know in the next section.
Types Of Errors That Can Be Fixed Using Intuit QB Tool Hub
Here, we have listed the errors which can be fixed using Intuit QB Tool Hub quickly: These are:-
Installation Issues
Network Problems
Network and Connection Issues
Performance Issues
Printing Issues
PDF and Printing Errors
Tool Hub in QuickBooks Desktop can practically fix all the major QB issues. Now, to know how to fix these problems with the tool, you have to download software. But before starting the process of downloading QuickBooks Desktop Tool hub, you need to know about the system requirements to install it.
Primary Requirements For QuickBooks Repair Tool Installation
Every software requires a set of things to work smoothly, So does QB Tool hub. Here are a few system requirements that needs to be fulfilled to use Tool hub utility.
Microsoft Visual C++ redistributable package.
The latest version of Windows.
Let's dig deep into the various parameter in the next section to learn how to download QuickBooks tool hub.exe.
Steps To Download & Install QuickBooks Tool Hub Software
Many users face the concern of How to Download & Install QB Tool Hub. So Simply follow the step-by-step guide to easily download & install the latest tool hub utility.
Firstly, close the QuickBooks desktop.
Then, download the latest version of the QuickBooks Tool hub exe file from the Intuit site.
It will automatically save in the Download folder of the system. You can also save it to another location.
Now, from the saving location, open the download file, saved as QuickBooksToolHub.exe.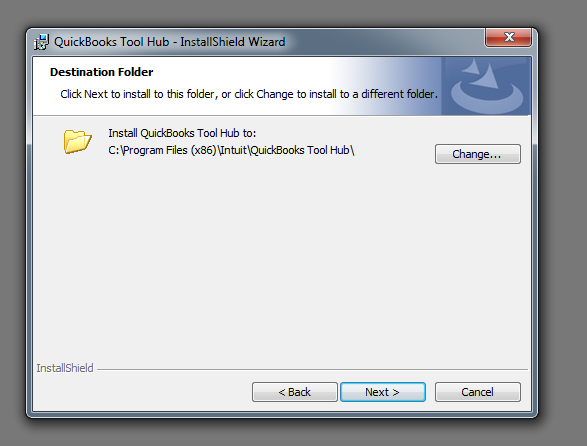 After opening, click on the Next button.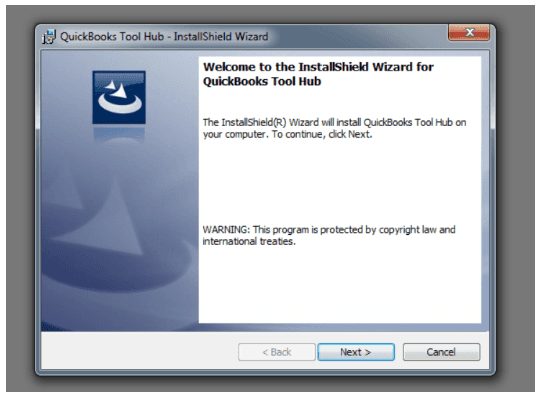 Also, click on the Yes button to agree on the term and conditions of the Intuit license.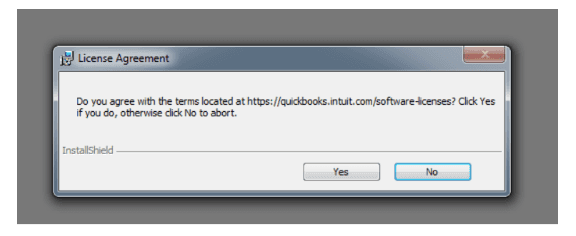 Then, select a location for the QB tool hub and click the Next button.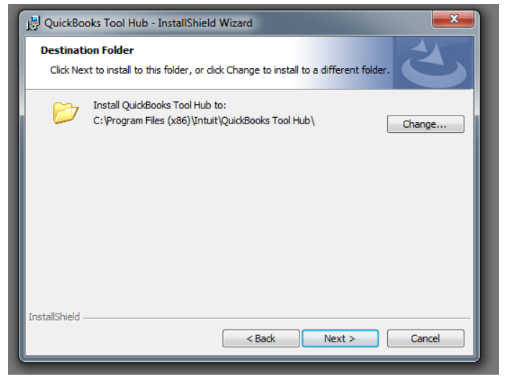 Now, click on the Install button to start the installation process.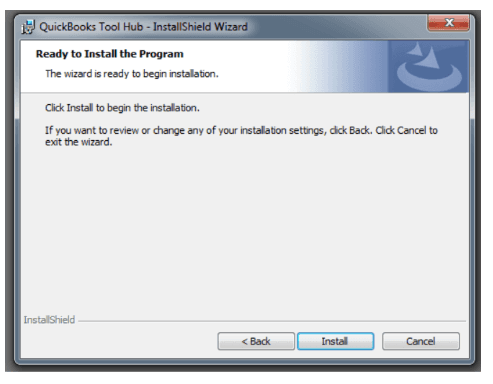 In the end, click on the Finish option.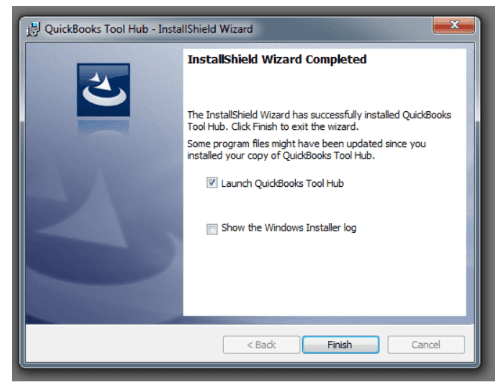 After successful installation of Tools Hub in QuickBooks, you have to open the tool.
After completing the QuickBooks Tools Hub installation, now you must know how to use different components of this tool according to the situation.
Various QB Tool Hub Components & Their Use
It consists of seven components for the specific needs of the user in resolving the error. Expect the Home tab, and five elements will help fix the errors and the support tab for tool support. We will describe them in detail with their uses.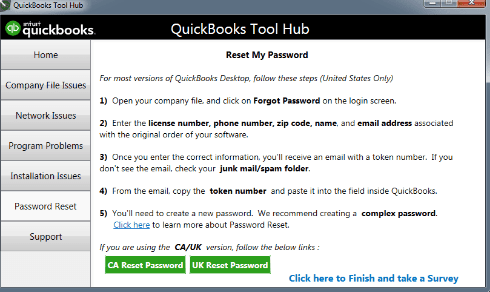 1. Home Tab
The Home tab will provide the rest of the tool tabs of Intuit QB Tool Hub. It also gives assistance to how anyone can use its different elements to solve a particular issue.
2. Company File Issues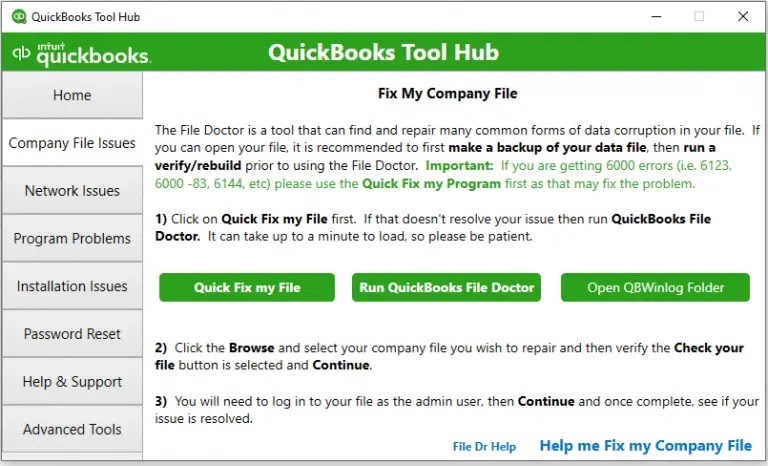 If you face any company file related issue of the 6XXX error series and want an immediate solution, simply go for the "Company File Issue" option and click on it. It will open the QuickBooks File Doctor tool and repair your company file. To execute the procedure with the tool, you have to follow the steps or instructions displayed on the screen. You can also click on the "Help" button for any additional assistance if the tool doesn't respond.
3. Network Issues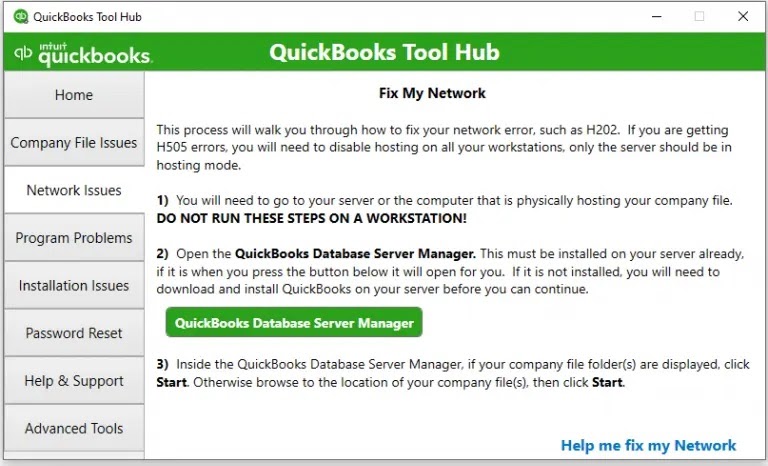 You can choose the Network File Issue tab if you are facing issues with your network. To run QuickBooks Desktop Tool Hub, note that an internet connection is required. The network issue option is also a solution for the error code H202 in QuickBooks. To get rid of the common connectivity issues, you need to click on the Network issue tab. It will resolve all the problems related to the network.
4. Program Problems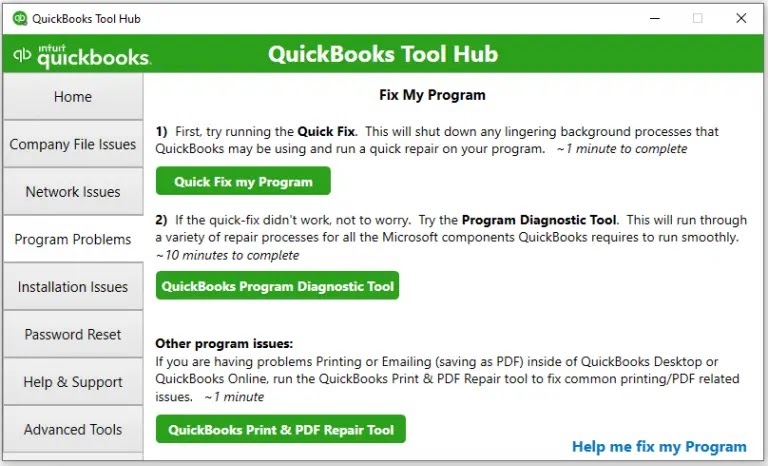 The program Problems section will provide help with program-related issues. This section has three different options.
It will eliminate all the QuickBooks processes running in the background and run a quick repair on the program. It is a less time-consuming procedure that takes less than one minute to complete.
QuickBooks Program Diagnostic Tool
It will run through different repairing procedures for each Microsoft elements required by QuickBooks to perform smoothly. You have to reboot your system after this process. It may take up to ten minutes to complete.
If you face any issue with printing or emailing within the QuickBooks Desktop or Online, this suits you perfectly. It can quickly fix your PDF & Printing Issues. This procedure is automated and takes up to one minute to complete.
5. Installation Issues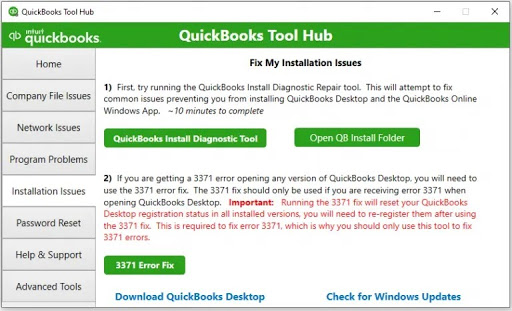 This section provides a solution when you face errors during the installation, re-installation, and uninstalling the program. To resolve the issue, choose the Installation Issue tab; it will ask you to select either QuickBooks Clean Install Tool or Diagnostic Tool. Both have different functions, so choose the right tool according to the problem.
6. Password Reset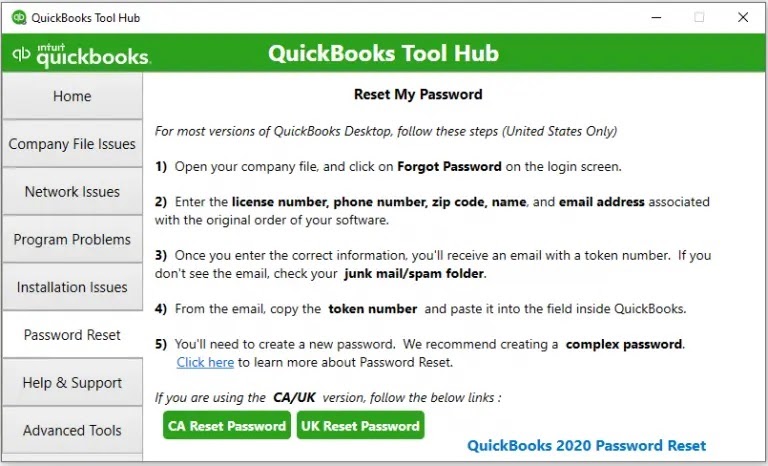 If you forget your QuickBooks password, you can easily reset it by the Password Reset section. It allows you to reset the password. You only require some essential details, such as license number, Zip code, email address, phone number, etc. For resetting, you will receive an email with a code or token number. Go to the Tool hub, enter the code in the required field, and create a new password.
7. Support
The tool hub's last tab is for the user's support service to get help from Intuit's Professionals team. Different options are available to assist the user.
Need Help To Complete The QuickBooks Tool Hub Download & Installation Procedure
With such a detailed explanation of the QuickBooks Tool Hub. This blog contains all the points regarding downloading the QB tool hub, installing, using it, installation requirements, and using its component to fix your issues. The Intuit Tool Hub QuickBooks can majorly resolve all the QuickBooks' errors. If you have any queries regarding QB Tool Hub, you can call our Asquare Cloud Hosting Helpline Number to get a perfect solution.
QuickBooks Tool Hub FAQs:
1. Is Intuit QB Tool Hub free?
Yes, it is free of cost. You can download QuickBooks tool hub without any charge.
2. What is the use of Tool Hub in Intuit QuickBooks?
Intuit QB Tool Hub can majorly fix the QuickBooks error, whether it is the installation error, crashing issue, or any error code. It comes with a user-friendly GUI, which makes its execution easy.
3. Can Qb Tool Hub reset the QuickBooks password?
Yes, it can easily reset the QuickBooks password by using the Password reset section, which can make it easy for you to resetting or creating a new password
Related Search Terms
QuickBooks Tool Hub Free Download,
Summary

Article Name
Download & Install Intuit QuickBooks Tool Hub To Fix Common Error
Description
Intuit QuickBooks Tool Hub is a collection of tools to repair various QB errors related to installation, network, login, PDF and printing, etc. Also, check the multiple errors code, which can be easily fixed using the QB tool.
Author
Publisher Name
Publisher Logo