Intuit QuickBooks allows users to set up email in QuickBooks Desktop software. Sending emails directly from QuickBooks saves a lot of time and effort. Users can also send and receive reports, send invoices to clients, and perform other transactions as well with the help of Outlook or Webmail ID. This can be done by configuring QuickBooks to send an email.
However, the process of QuickBooks email setup might seem like a difficult task. But not to worry, we have got you covered. In this blog, we will discuss how to set up email in QuickBooks Desktop.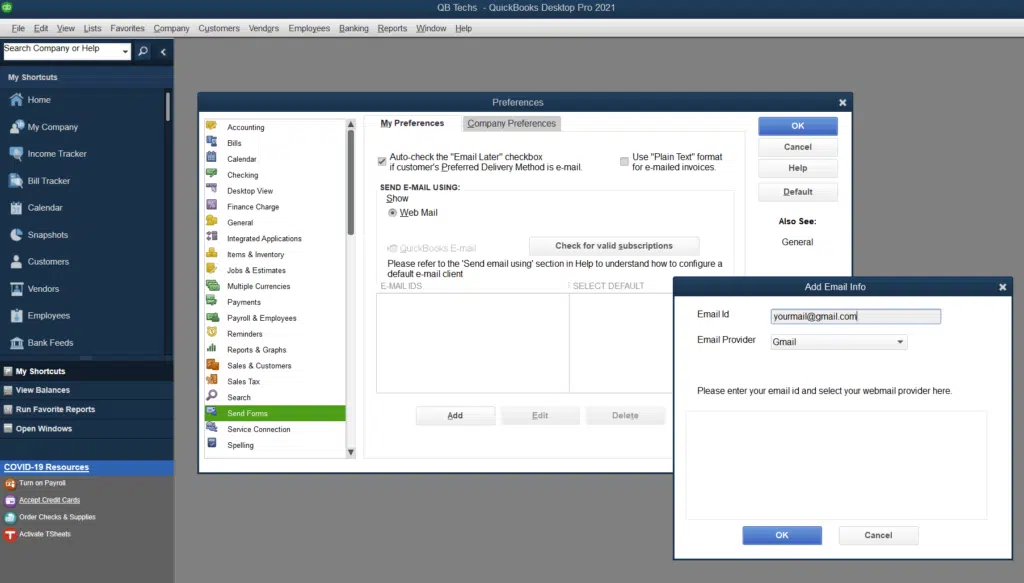 Are you struggling with how to set up email in QuickBooks Desktop? Don't worry, we have got you covered. To set up the emailing service with Intuit QuickBooks, contact Asquare Cloud Hosting's expert team at +1.855.738.0359 and enable email from QuickBooks right away.

How is QuickBooks Online Email Setup Beneficial?
QuickBooks email features offer its users numerous benefits. We have listed down some of the spectacular advantages of configuring email in QuickBooks.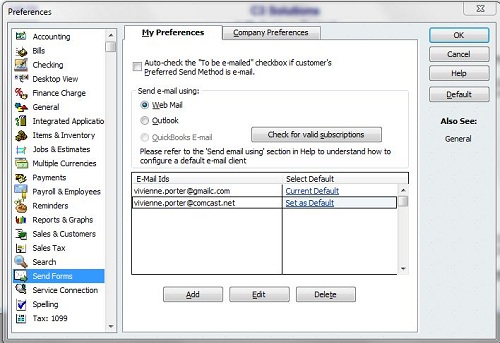 With this feature, it is possible to set payment reminders to the customers via email.
Also, it allows the users to fetch information from customers and vendors.
Users can send direct email invoices and estimates to the customers via email setup.
Provides a facility to share reports within the office and department.
Users can import the company data from the spreadsheet and can also insert attachments up to 2MB.
These are some of the benefits of setting up emails in QuickBooks Online and Desktop. Moreover, the QB provides several email options.
What are the Different Options For QuickBooks Email Setup?
There are three primary options for setting up email in QuickBooks Desktop
Webmail: The Webmail feature of QuickBooks launched in the year 2011 to bridge with Yahoo, Gmail, or any email platform.
Outlook: If you have MS Outlook already installed in the system, then you can redeem the Outlook support. It is noted that Outlook is the most preferred email client, as it provides more easy handleability.
QuickBooks Email: This option is not that much in use and is most unliked by the users. The users generally go for the Outlook option.
There are possibilities that, due to some reasons, the user is unable to find the option to set up a particular email at the QuickBooks Desktop. Also, the user might be using an unsupported version of QuickBooks. The system doesn't show every option in some cases.
How to Setup Email in QuickBooks?
Below are the options for setting up the QuickBooks emails by which you can easily send transactions, invoices, reports, and more.
Option #1: Setup Outlook Mail in QuickBooks
Before starting, ensure that you're using Outlook 2010 or any latest version, and you also have Outlook email profile details.
Step 1. Before Setting Up Outlook, Keep the Following Info ready
Username
Password of Email
Incoming email server type
Outgoing email server address
Incoming email server address
Step2. Set up QuickBooks Email Via Outlook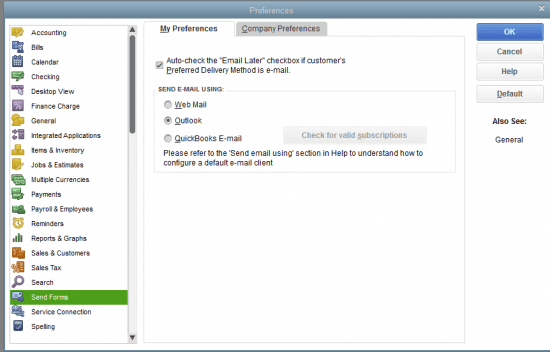 Open QuickBooks and go to the Edit menu.
Then, choose Preferences and then click on Send Forms.
Now, select Outlook and click on OK.
Option #2: Setup Secure Webmail for QuickBooks
There are some points you need to know before setting up Secure Webmail in QuickBooks, which are listed below:
Points to Remember Before Starting the Configuration
Only the latest version of QuickBooks can use secure Webmail. This generates an easy and secure connection for your email.
When you link your Intuit account with your webmail account, ensure secure Webmail works appropriately.
After linking, you don't need to enter the password every time while sending the email.
After these points, you have to ensure which QuickBooks versions can work with the secure webmail.
QuickBooks Versions Compatible with the Secure Webmail
These versions are suitable for Yahoo Email, Gmail, Hotmail, AOL, and Windows Live Mail. For Mozilla Thunderbird Email Client, they only support the plain text version in Mozilla.
This version is only available for Gmail and Hotmail/Live users in the UK, USA, and Canada.
Gmail users in the USA only can use R5 and newer versions.
QuickBooks secure webmail is not available for these versions.
After knowing all these points, whether it is about the condition or version, let's proceed to the QuickBooks email setup using the QuickBooks Email option.
Steps to Set Up Secure Webmail (QuickBooks Email Option)
Launch the QuickBooks application and go to the Edit menu.
Then, choose the Preferences and click on Send Forms.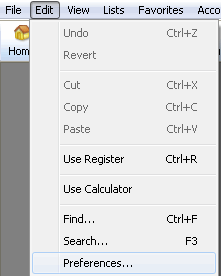 Now, you must select WebMail and then Add.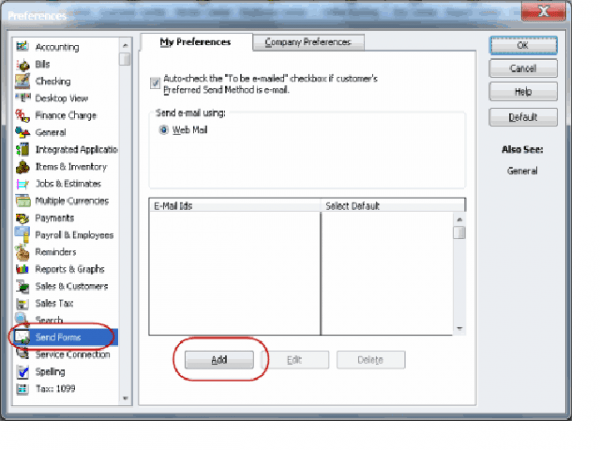 After that, choose your provider from the drop-down menu and provide the email address.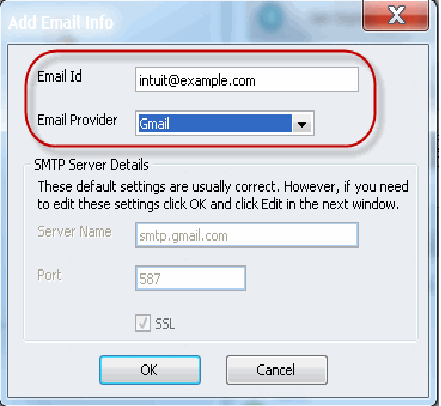 Here, choose the "Use Enhanced Security" checkbox and click OK. (You can unmark the box if the "Network Error. Please try again" error message occurs)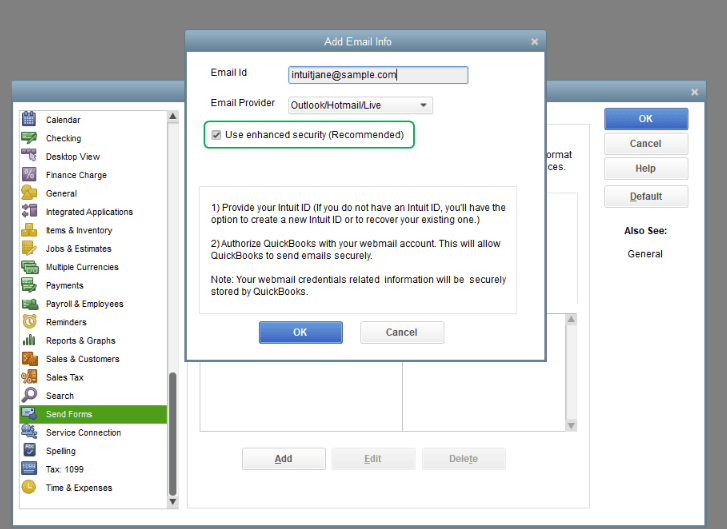 Now, Log in to your Intuit account.
After that, a wizard of the webmail provider's login will appear. Sign in and choose to grant Intuit access.
After following the above process, there are some points you need to know.
If you set up Secure Webmail to your Company file, you need to create a complex password for your file to secure the file.
If you're using a Hosted Environment then you need to sign in every time you wants to send a mail
After using the option of QuickBooks Emails, now it's time to go for the Webmail option.
Option #3: Configure Regular Webmail in QuickBooks
Email setup in QuickBooks through Webmail is also an acceptable way. Now, before starting the process, below are some points every user needs to know.
Things You Know Before QuickBooks Email Setup
You have to verify your Webmail servers and the port settings with the ISP.
The Webmail provider asks the users to enable their account settings for the two-step verification process.
QuickBooks will auto-fill the details for some common providers.
How to Set up Webmail in QuickBooks?
Open QuickBooks and choose the Edit Menu.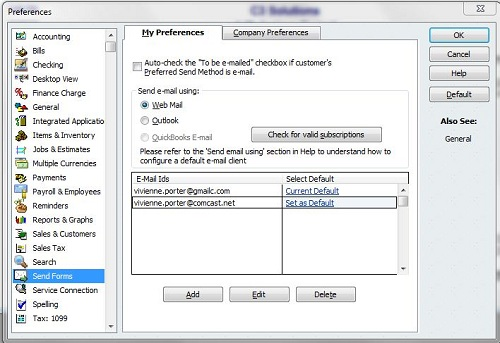 Then, click on the Preferences tab and choose the Send Forms option.
Now, choose the Web Mail >> Add.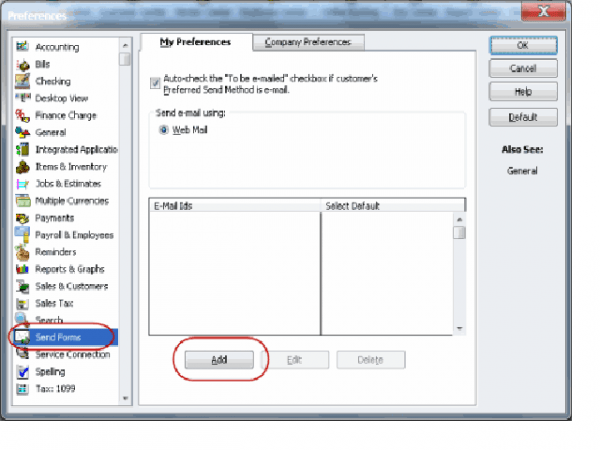 After that, enter the Add Email information and click on Ok.
In the end, click on OK for saving the changes.
Option #4: Setup QuickBooks Email Services
Firstly, choose the "QuickBooks Email" option from the Send email using section.
Then, you need to check whether you have a valid subscription or not. Because QB email features only process when you have an Intuit services active subscriptions like Accountant's Copy File Transfer, QuickBooks Payroll, QB Enterprise Full Service, IMS (Intuit Merchant Service), or QB Billing Solution.
Now, follow the on-screen instructions for QuickBooks email setup.
In the end, you have to fill in some required information such as email address, username, password, incoming & Outgoing email settings, and server details.
After providing the above options, we hope that you can easily set up QuickBooks Email services. Now, after this, below are some points which are important to know.
Points to Consider After Setting Up Webmail
QuickBooks will ask you to provide your Webmail password while sending the first email using Webmail.
If QuickBooks rejects your password, contact your Webmail providers (Yahoo, Gmail, etc.) to execute the two-step verification and ask users to check the account settings.
If you are a Cox and CableOne user and can't find any solution for QuickBooks Desktop Email Setup, then the below section is for you.
For Cox Users
While sending emails Cox's standard settings do not use the SSL or the Sign-in details. The QuickBooks Desktop uses the SSL connections and asks you to enter the Sign-in credentials. Thus, using the SSL Connection and port 25 will not function with the QB desktop. You can use the SSL with port 465 or 587.
For CableOne Users
The CableOne users can follow the given details to set up QuickBooks emails since they use Google servers.
Email Provider: Gmail
Email Address: Your User ID
SSL: Yes
Port: 465 or 587
Users are also confused with the different port information and internet service providers. In the next section, we present you the table which contains the data.
Table for Port Information and Internet Service Provider (ISP)
Go through the table given below to find out the exact codes and information regarding the port, servers, and ISP.
| | | |
| --- | --- | --- |
| ISP (Internet Service Provider) | SMTP Port | SMTP Server |
| BELL SOUTH | 110 | mail.bellsouth.net |
| ADELPHIA | 110 | mail.adelphia.net |
| 1AND1.com | 587 (SSL enabled, with password) | smtp.1and1.com |
| AOL | 465 or 587 (SSL enabled for outgoing and incoming mail server) | smtp.aol.com |
| COMCAST | 587 | smtp.comcast.net |
| COX Business | 25 | smarthost.coxmail.com |
| COMPUSERVE | 110 or 587 | smtp.compuserve.comsmtp.aol.com |
| COX CENTRAL | 25 | smtp.central.cox.net |
| COX WEST | 25 | smtp.west.cox.net |
| COX EAST | 25 | smtp.east.cox.net |
| EARTHLINK | 25 (with password) | smtpauth.earthlink.net |
| GODADDY with Office 365 | 587 (SSL enabled) | smtp.office365.com |
| MICROSOFT OUTLOOK 365 | 587 (SSL enabled) | outlook.office365.com |
| PRODIGY | 25 (SSL enabled) | smtp.prodigy.net |
| SPRINT PCS | 25 | smtp.sprintpcs.com |
| VERIZON | 465 | outgoing.verizon.net |
| GODADDY | 80, 25, or 3535 | smtpout.secureserver.net |
| LYCOS | 25 | smtp.mail.lycos.com |
| NETSCAPE | 25 (SSL enabled) | smtp.isp.netscape.com |
| | | |
| --- | --- | --- |
| ROADRUNNER | 587 | smtp-server.sc.rr.com |
| VERIZON YAHOO | 465 | outgoing.yahoo.verizon.net |
Let Us Setup QuickBooks To Email Invoices for You
With this blog, we present you the perfect solution for QuickBooks email setup Office 365, Gmail, Yahoo, and other service providers. Hope you find this helpful in how to set up email in QuickBooks Desktop. If you need any help regarding configuring QuickBooks emails, we are available 24/7 to help you, Just give us a call at Asquare Cloud Hosting Helpline Number at +1(855)-738-0359, and our professional team will assist you with the best.
Frequently Asked Questions On QuickBooks Email Setup
1. Can QuickBooks Desktop automatically email reports?
QuickBooks Desktop has a feature that is called Scheduled Reports. It allows the user to send or email reports on a daily and recurring scheduled time.
2. What email address does QuickBooks use to send invoices?
The QuickBooks' default email address while sending invoices, reports, and transactions is QuickBooks@notification.intuit.com.
3. Does QuickBooks work with Gmail to send emails?
The QuickBooks 2019 and later versions work with secure webmail services such as Gmail and Yahoo email.
4. How do I set up my email in QuickBooks?
It is very easy to set up email in QuickBooks using secure webmail. In this blog above, we have discussed the various methods to set up an internet or email provider and secure webmail in QuickBooks
5. How do I change my email settings in QuickBooks?
To change your email settings in QuickBooks, you need to sign in to your account. Thereafter, go to manage QuickBooks and choose the service you wish to modify. Click on the edit login and edit the profile and enter the new email address.
6. How do I set up Gmail in QuickBooks?
Let's go through the steps on how to set up QuickBooks email with Gmail.
Firstly, Open an existing invoice or create a new one.
Now, fill in the required fields and move on to the preview window.
From the dropdown list of the items, click on Add Gmail address and proceed to connect the Google account.
7. What is the default email program for QuickBooks?
Usually, the QuickBooks Desktop utilizes Outlook or Outlook Express by default. However, you can easily modify the email preferences. To do so, click on Edit and choose Preferences. This will allow you to edit the email preferences in QuickBooks.
8. How to set up QuickBooks to email invoices?
Let us see the steps on how to set up QuickBooks to email invoices.
To start with, open QuickBooks Online and navigate to Get Paid and Pay
Now, click on Invoices that you want to send through emails
Fill in the information, and once done, add any contacts you wish to send the invoice to.
Fill in the email information and click on Send.