A poor internet connection can hamper your work on Quickbooks, especially when trying to download payroll or desktop updates. You can run into Quickbooks payroll update error 12002 because your system fails to connect with the internet. QuickBooks service messages error 12002 that appears on your screen is:-
Problem
Error 12002: A network timeout that is preventing QuickBooks from accessing the server.
Solution
Verify that your connection is set to use your computer internet connections
If you run into QuickBooks Payroll Update Error 12002 and have no idea what to do, contact Asquare Cloud Hosting's expert team.

Things To Do Before You Begin Troubleshooting Steps 
Troubleshooting Steps For QuickBooks Update Error 12002
The steps to fix QuickBooks update error 12002 includes reviewing Internet settings, checking security settings, Installing QuickBooks update, repairing Internet Explorer and using clean install in selective startup. Let's look at the step by step guide on these troubleshooting methods:-
Solution 1- Check Your Internet Settings
As mentioned above, faulty internet settings are one possible reason for QuickBooks error 12002. Follow these steps in order to ensure that you have correct internet settings:-
Close your QBD application and run Internet Explorer.
Choose Tools and then Internet Options.
Note:- Press Alt on your keyboard if you are unable to find the Tools button.
Click on the Globe icon in the Security tab and ensure that the security level is not more than Medium-high.
Select Never Dial a Connection on the Connections tab if you don't use the dial-up node (DUN); select ISP if you do.
Click on OK.
Select LAN settings, then select Automatically detect settings and make sure the Use a Proxy Server checkbox is unchecked.
If Use a Proxy Server is selected, you need to document the whole address and port.
Do not uncheck the Use a Proxy Server option if the port is anything other than 80.
Clear the checkbox for testing purposes if the port is 80.
Click on OK.
Select Restore Advanced Settings from the Advanced menu, then go under Settings for Use TLS 1.2 and make sure it's checked.
Note:- Few Internet Explorer versions do not have these options.
Choose OK.
Now Close Internet Explorer, restart your computer and then run QuickBooks.
Solution 2: Update Your QuickBooks Desktop
QuickBooks error 12002 during state forms download can occur because of an outdated application version. Ensure that you are using are running company file in single-user mode and follow these steps to restore QuickBooks updates and then download the latest version of the application:-
Tap on the Help menu and choose Update QuickBooks Desktop.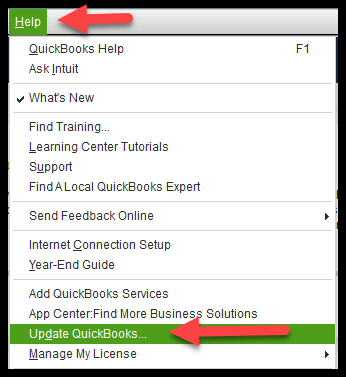 Click on the Update now tab and checkmark Reset Update so that all previous update downloads are clear.
Click on Get updates to start the download.
Restart QuickBooks when the download finishes.
Accept the option to install the updates once the message pop-up.
Solution 3 Configure Your Security Settings
You can also face QuickBooks payroll update error 12002 because another application or process prevents the download. Certain things on your system control your internet connectivity to your systems, such as Internet security, firewall settings, and parental control of the application. You need to configure through all of them for QuickBooks desktop updates, tax table updates and sending payroll data.
If the updates download fails even after following the above-mentioned things, you need to restart your computer in safe mode with networking and then download the Update again.
Solution 4- Repair Internet Explorer
Issues with your Internet Explorer is one possible reason for QuickBooks payroll update error 12002. You can easily repair it through the internal settings of your system. Follow these steps in order to do so:-
Close down all your system programs, including Internet Explorer.
Open the Run window by pressing the Windows key + R. 
Type inetcpl.cpl and press enter.
Select the Advanced tab from the Internet Options dialog box.
Select reset under Reset Internet Explorer settings. Then Tap on reset again.
Checkmark the Delete personal settings check box if you want to clear the browsing history, search providers, Accelerators, home pages, Tracking Protection and ActiveX Filtering data.
Select Close in the Reset Internet Explorer Settings dialog box once Internet Explorer finishes resetting.
Now start Internet Explorer again.
Solution 5- Clean install QuickBooks in Selective Startup mode
Errors at the time of installation are one big reason for QuickBooks error 12002 during state forms download. Follow these steps in order to clean install it in selective startup mode:-
Generate a backup of your company file.
Press Windows + R in order to open the Run window.
Type in MSConfig and press enter.
Choose Selective startup and Load system services in the general tab.
Go on the Services tab and select Hide all Microsoft Services.
Choose Disable all.

Unmark Hide all Microsoft services checkbox.
From the list of services, make sure the Windows Installer checkbox is selected. Select the checkbox if it isn't.
Tap on OK,
Select Restart on the system configuration window.
Now clean install Quickbooks Desktop after restarting your system.
Again press Windows+R and open the Run command window.
Type MSConfig and press OK.
Select Normal startup in the general tab.
Tap on OK.
Now restart your system.
Now we hope that you know what shall be done when QuickBooks payroll update error 12002 occur on your system; we discussed the five different methods through which you can fix the issue. In case you find it difficult to follow any of the given instructions, you can reach out to us at Asquare Cloud Hosting Helpline Number, and our technical expert will guide you to fix your error without losing any data.