Data security is one such thing that no business would put at stake. QuickBooks Desktop, with its update on 31st May 2018, made its system compliant by following a more secure and higher protocol (TLS 1.1 & TLS 1.2) to ensure compliance with PCI data security standards in place of the SSL/early TLS protocol. TLS (Transfer Layer Security) is an internet security protocol that guarantees data security and stability. However, specific errors, such as the QuickBooks TLS error, may occur with the QuickBooks TLS 1.2 update. At this time, the following error messages appear on your screen: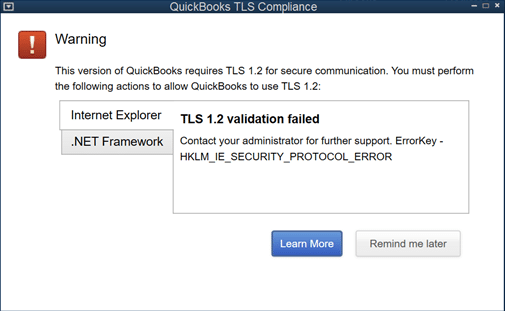 "QuickBooks TLS 1.2 Failure Error"
"QuickBooks requires TLS 1.2 for secure communication."
Before you begin to find out the reasons and troubleshooting solutions for the QuickBooks Error TLS 1.2, you must meet the standard system requirements to keep the application running.
Can't resolve TLS 1.2 validation error in QuickBooks? Place a call on Asquare Cloud Hosting Helpline Number +1.855.738.0359 and get instant resolution for all your queries.

System Requirement To Avoid QuickBooks TLS 1.2 Error
There is a certain set of system requirements that one has to fulfill to avoid issues like QuickBooks TLS Error. All you need to do is choose a system that is compatible with TLS 1.2 security protocol. It will surely reduce the chances of getting QuickBooks TLS 1.2 error Failure Warning Message.
Operating system: It supports the following operating system Windows 7, Windows 8.1, Windows 10, Windows Server 2008 R2, Windows Server 2012 R2, Windows Server 2016.
Default browser: Make sure to set Internet Explorer as your default browser for the QuickBooks Application. IE must be preferably 11, as It ensures to keep your data secure from any threat.

.NET Framework:

It must be 4.5.2 or higher. If it's not, then you must update or install it.
To keep your business data secure, the QuickBooks Desktop application must meet the above-specified system requirements. It allows you to access the services provided by Intuit. Even then, certain reasons trigger the TLS Error in QuickBooks Desktop. We have listed some of the possible reasons ahead.
Main Causes Of QuickBooks Error TLS 1.2
As discussed, the QuickBooks TLS 1.2 Compliance Error can take place due to numerous reasons of which we have discussed the major ones below:
You might be using an outdated version of the QuickBooks Desktop application.
The Internet Explorer is not compatible with your operating system.
There might be a possibility of administrative access that triggers QuickBooks Error TLS 1.2.
You might have disabled TLS 1.2 which triggers QuickBooks Desktop TLS Error.
Which Features Are Affected Due To TLS 1.2 Error In QuickBooks Desktop?
Slight failures in the security updates can restrict you from accessing the services of the QuickBooks desktop. The impact is not limited to this. Below we have listed all the features that are affected due to the TLS 1.2 Error in QuickBooks Desktop:
This error restricts you from accessing the services that require QuickBooks authentication or Intuit account credentials such as My apps, secure webmail, and contributed reports.
You won't be able to use the QuickBooks Password Reset Tool and thus couldn't reset the QB password.
The IDP (Intuit Data Protect) feature that is used to avoid data breaches wouldn't work for you.
QuickBooks TLS 1.2 validation failed error will restrict you from accessing Payroll, payments, online banking, and other connected services.
It will not allow you to access basic functionalities such as order checks and supplies.
You don't need to panic after reading this. There are multiple ways that can help you to eliminate the QuickBooks error message TLS 1.2. We have got all the effective methods covered for you.
Troubleshooting Methods To Resolve QuickBooks TLS Error
Imply the resolution methods mentioned below to avoid any of the above-listed situations. It will surely help you fix the QuickBooks TLS Error to get the application run smoothly:
Important: However, before you proceed with the troubleshooting, make sure to update QuickBooks desktop as per the latest version.
Solution 1: Set Internet Explorer as Default Browser
In today's time, any version of QuickBooks, be it desktop, online, or any other related software, is not compatible with any other browser apart from the Internet Explorer. Thus, it's essential to set Internet Explorer as your default browser. For knowing how to set "MSIE" as your default browser, you must follow the below-given steps:
Open Internet Explorer and make sure to configure it. However, if you haven't, then you must first install it.
Go to the Gear icon and click on Internet Options.
Now, go to the Programs tab and select the Make Default option.
Lastly, click on Apply followed by OK and check if the QuickBooks TLS error is fixed or not.
In case the QuickBooks TLS Error persists, move to the next solution immediately.
Solution 2: Verify Internet Explorer Settings
An unstable internet connection is one reason that evokes QuickBooks TLS 1.2 error; thus, you need to fix it at the earliest. For that, you may follow the below-mentioned steps.
For Windows 10 User: If you are a Windows 10 user, then by default, there is already Internet Explorer V11 and TLS 1.2. Follow the steps mentioned ahead to check if TLS 1.2 is enabled or not.
For Windows 7/8/8.1: If you are a Windows 7/8/8.1 user, then you have to upgrade your Internet Explorer as per the latest version. However, if you don't want to upgrade your Internet Explorer browser, you can enable TLS 1.2 from your IE settings.
For Windows XP or Vista: If you are a Windows XP or Vista user, you might be aware that you can't upgrade the Internet Explorer (IE) 8 on Windows XP or Vista. You have to upgrade your windows operating system as per the latest available version in such a situation.
Steps to check if TLS 1.2 is enabled or not to fix QuickBooks TLS Error:
Open the Internet Explorer and go to the Gear icon. From there, click on the Internet Options.
Now, go to the Security tab and click on the Globe Icon.
Note: Make sure to set the security up to medium-high instead of high.
Now, click on the Never Dial a Connection option followed by If you use the dial-up node (DUN) on the system, then ensure that you choose the right ISP under the Connection tab.
Click on OK and go to the LAN Settings. Make sure to mark the Automatically Detect Settings checkbox.
Also, disable the Use a Proxy Server option. If not, then enter the complete address and port. Moreover, if the port is not 80, then you don't have to unmark the Use a Proxy Server checkbox, else you can.
Now, click on OK and navigate to the Advanced tab. There, you have to select the Restore Advanced Settings option.
Further, scroll down to the Use TLS 1.0 checkbox.
Make sure if the checkbox adjacent to TLS 1.0 is marked and Use TLS 1.1 and Use TLS 1.2 are unmarked.
Click on OK and close Internet Explorer to apply all the changes that you made.
At last, restart your workstation and check for the error status.
Read More: How To Fix QuickBooks Error 6094?
Why Is QuickBooks TLS 1.2 Version Preferred Over SSL/Early TLS?
Netscape introduced a secure Sockets Layer (SSL) in 1990. There were some differences in the SSL and early Transport Layer Security (TLS). This has made it easy for the attackers to take advantage of mainly the e-commerce platforms through widespread POODLE and BEAST exploits. It primarily happened due to failure in the update of SSL with time.
However, when it comes to TLS, there are several checks made. With an aim to enhance security, it added a lot of support for the new cryptographic algorithms. That's why its most recent version (TLS 1.2) is the most secure compared to other services. Thus, one must update to the latest QuickBooks Desktop update for TLS 1.2 to keep your system stable and more secure.
Need Help To Fix QuickBooks TLS 1.2 error!
We have tried our best to provide you with the most effective troubleshooting methods in the easiest way. It would have indeed helped you fix QuickBooks TLS Error. However, there is a probability that you might find it technical or say you don't want to risk your business data. In that case, we suggest you get in touch with our support team. Give us a call at Asquare Cloud Hosting Helpline Number at +1.855.738.0359 and our experts will resolve all your issues immediately.