It is not uncommon for businesses to function in multiple geographical locations. QuickBooks developer understands this thing and offers a multi-currency option. With the help of this Multi-currency feature, users can get more accounting and banking options to make payments in their currency from overseas without any trouble. But, sometimes, these businesses run into QuickBooks multi currency problems, which can hinder their smooth functioning. So, here we have enclosed this article with detailed information on how to set up home currency adjustment in QuickBooks online & desktop below, so read the entire blog carefully.
If you have run into QuickBooks multi-currency problem and have no clue on how to fix it, reach out to our experts at Asquare Cloud Hosting Helpline Number +1.855.738.0359, and they will help you out. 
Things To Know About Home Currency Adjustment On The Bank Account
If you are someone who does not have much knowledge about home currency adjustment on the bank account, these are the things you should be aware of:-
You can't turn this feature off once you have activated it.
Your Home currency is permanent and can't be changed.
The currencies of customers and vendors cannot be altered for names that have already had transactions recorded against them.
Your Old bank accounts will be reflected using your Home currency.
What Are The Reasons For QuickBooks Foreign Currency Problem?
There are multiple reasons for QuickBooks foreign currency problem, such as cache and cookie problems in QBO, different supplier currencies. Let's look at the possible reasons:-
If your multi-currency feature is not activated on your system.
You have not set a home currency for your company.
Old Cache and cookies on your system.
Your supplier currency is different.
Note– There are many more reasons for Quickbooks multi currency problem, these are just few examples of it.
Troubleshooting Steps For QuickBooks Multi-Currency Problem
The steps to resolve problems related to multi currency in QBO and QBD versions are totally different. It also depends on why the issue is occurring on your system:-
Solution 1- Turn on Multi-Currency in QuickBooks
If you haven't turned on the multi-currency feature in QuickBooks in your version, you will surely face the issues.
How to Turn On Multicurrency in QuickBooks Online?
Click on Settings.
Tap on Account and Settings and then click on Advanced.
Choose Edit in order to modify your current currency settings.
Tick Mark the Multicurrency checkbox.
Click on Save and Close.
How to turn on multi-currency in QuickBooks Desktop?
Tap on the Edit menu and click on Preferences.
Choose Multiple Currencies.
Go on the Company Preferences tab and choose Yes, I use more than one currency.
Now select the Home currency from the given list.
Solution 2- Change Supplier Currency in QuickBooks
You can not change the currency of a supplier after setting it up and recording transactions. However, it is possible to record a new transaction with the supplier in their currency. You just need to make the existing profile of the supplier inactive and then add the supplier again. Your existing transaction record will still stay in QuickBooks.
Solution 3- Verify and rebuild company file data?
QuickBooks multi currency issues can also be due to damaged company files. Verify and Rebuild utility can help your system figure out and then fix the issue. Follow these steps to use this utility:-
Run QuickBooks and tap on the File tab.
Select Utilities and then select Verify data.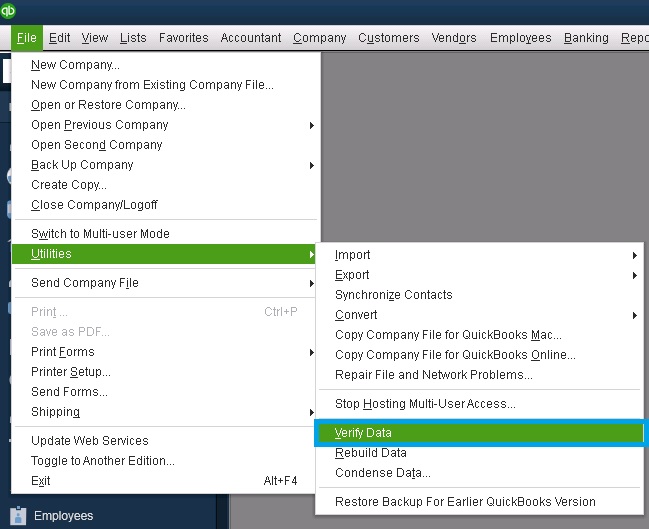 You don't have to go through the next step if the message display "QuickBooks detected no problems with your data."

If the message pop-up "Your Data has lost integrity", it means that your company file is damaged and requires rebuilding.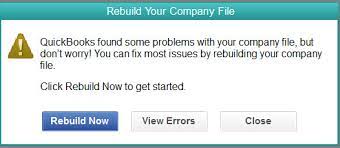 Tap on the File tab again and click on Utilities.
Now select Rebuild Data.
Select No if an option to change the file name appears and save the file with a new name.
Now restart your system.
Solution 4- Use the QuickBooks Clean Install Tool
QuickBooks foreign currency problem can also be due to installation error. Follow these steps to use Clean Install Tool:-

Create a backup of your company file.
Note down your QuickBooks version and your license info.
Press the Windows start button.
Click on the Control panel and select Programs and features.
Click on Uninstall a Program.
Now choose the version of QuickBooks causing the issue.
Tap on Uninstall/Change and then follow the onscreen instructions.
Download and Install the QuickBooks tool hub from the official intuit website if it is already not on your system.
Run QB tool hub and then tap on installation error.
Now select the Clean install tool.
Choose the version of QuickBooks and the product version you are using.
Tap on the Continue button.
Click on OK when the message "Please install your copy of QuickBooks to default location" appears. 
Now you can reinstall QuickBooks from the official website.
So now we hope that you are well aware of what shall be done when QuickBooks multi currency problem arises on your system. We discussed the reasons why these problems occur and what shall be done to fix them. In case you are not very tech-savvy and could not follow the given instructions, we will advise you to contact Asquare Cloud Hosting's expert team at +1.855.738.0359. They will help you fix your issue without losing any data.