QuickBooks Error 557 is a technical error that is seen while updating the payroll after downloading the latest version of Quickbooks. This problem can become troublesome as this will risk your data.
What is QuickBooks Error 557?
After you update your existing Quickbooks software to the latest version, when you download the updates of your payroll there are chances that you get the QuickBooks Payroll Error 557. This error can be a bit dangerous for the data and information fed in the payroll. While you face this problem, you might get an error message on the screen saying "Quickbooks has encountered a problem and needs to be closed. We are sorry for the inconvenience."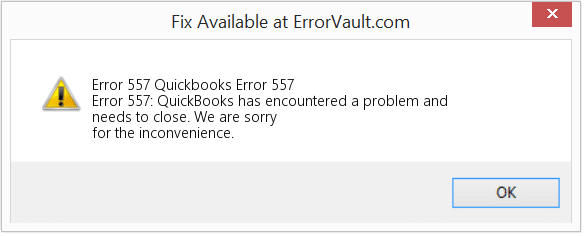 If you are also experiencing QuickBooks Error 557, Contact Asquare Cloud Hosting's expert team. This error has a variety of possible causes, each of which requires a thorough investigation to determine the root of the issue, which can only be carried out by a qualified Asquare Cloud Hosting Specialist.

What Can Cause QuickBooks Error Code 557?
The first critical step to solving error 557 in QuickBooks is to figure out the reason why this is happening. Here are a few major reasons why this might be happening.
If your payroll subscription is inactive.
When you have multiple active agreements of payroll with inactive direct deposit agreements.
If somehow your payroll data has been damaged.
When the software is not updated.
If you have punched the incorrect service key.
When your Windows version does not support the QB version you are running or visa versa.
EIN or invalid number
Related Post: How To Troubleshoot QuickBooks Update Error 403? [Resolved]
Solution to Payroll Update Error 557 in QuickBooks
Once you have understood the reason for error 557 Quickbooks here are the solutions that will help you in fixing the problem.
Solution 1: Update your QuickBooks to the latest version
One of the main reasons why you are getting this error can be because your Quickbooks is not up-to-date. If that's the case, follow these steps.
Click on the "Help button" in the menu bar and then select "Update Quickbooks Desktop."
Then go to "Update Now" tab and select "Get Updates"
Once the downloading is finished, just install the new releases.
After doing this, just verify your payroll subscription and if it is required, please re-activate subscription. The next solution will help you in applying the solution step by step.
Know More About: How To Fix Error 3371 in QuickBooks Desktop
Solution 2: Re-activating the service using a web browser
It is easy to reactivate the service of payroll subscription to seamlessly use the services on offer. And there are chances that you won't face the payroll update error 557 in QuickBooks problem after this.
Start by signing in to the CAMP page which is Customer Account Management Portal.
Go to the "Manage your QuickBooks" page and then select the services and products you wish to manage.
Then in the "Products and Services" section, you will have to click on the "Payroll Subscription".
The status of the subscription shows under a blue toolbar.
If you see "Cancelled" as the subscription status, then all you need to do is press on the "Resubscribe" link in the status section.
Next, you will have to go to the "Reactivate Subscription" section to validate that all the information is correct. Once you have checked- click on "Save and Continue."
Once you have reviewed the "Subscription details" and the "billing information", press on "Reactivate."
Once done, you will see a pop-up message saying that your subscription is reactivated successfully. Now just click on "Got it."
After you have followed this solution successfully- in approximately 24 hours, it will be updated on the server and you will be able to use all the services once again.
Wrapping it up
QuickBooks 2018 Error 557 has become a common and one of the most occurring problems. But the solution to this problem is also easy. So if you see the pop-up message of "QuickBooks Error code 557" then execute these solutions properly. Else, you can also take help from our experts by dropping a query or contacting on the number +1(855)-738-0359.
Related Article:-
Resolve QuickBooks Payroll Error PS060- Unavailable Payroll Service
How To Resolve QuickBooks Error PS038- Payroll Update Error
How To Resolve QuickBooks Payroll Update Error 15270- [Explained]
Resolve QuickBooks Payroll Error PS036- Can't Verify Payroll Subscription
Summary
Article Name
Resolve QuickBooks Error 557 | When Installing Payroll Update
Description
When QuickBooks Payroll Error 557 happens, a notification that reads "QuickBooks has encountered an issue and has to be closed" appears on your screen.
Author
Publisher Name
Publisher Logo