Quickbooks offers an option to run the payroll on their application, facilitating businesses and managing their transactions. Sometimes, this feature might not work correctly due to QuickBooks Error PS107. It is caused by a damaged file in the QuickBooks application and hinders the process of downloading QuickBooks' latest payroll updates.
Quickbooks Error Message PS107 is as follow:-
An internal file in QuickBooks has become unreadable [PS107].
Is QuickBooks Error PS107 hindering your work? Are you Looking for technical assistance to help you out? Fix it simply by reaching out to our Asquare Cloud Hosting Helpline Number.

Reasons For QuickBooks Payroll Error PS107
Multiple reasons lead to QuickBooks payroll error PS107 varying from the application version you are using to the tax table. The proper list of reasons is as follows:- 
The version of QuickBooks you are using is outdated.
The payroll tax table you are using is outdated.
You don't have an active payroll subscription.
The installation process of Quickbooks Desktop was not completed.
Troubleshooting Steps For QuickBooks Desktop Error PS107
There are four different solutions for fixing Quickbooks Desktop Error PS107 based on the cause of the issue. We have mentioned the related troubleshooting causes above the troubleshooting steps and followed them as needed. If you are unaware of what is causing the issue on your system, follow them all one by one.
Solution 1- Close QuickBooks and then Restart it.
A lot of things are set to default when you simply restart your application, and it is the simplest way to fix QuickBooks Error PS107. Follow these steps to completely close your application and then restart it:-
Press Alt+Ctrl+Del together and then tap on Start Task Manager.
Tap on the Processes tab in the Task Manager window.
Highlight all the applications starting with QuickBooks.
Now tap on End Task/End Process.
Now reopen the application and try to update payroll in order to check if Quickbooks Error Message PS107 still appears on your screen or not.
Solution 2- Clean install QuickBooks in Selective Startup Mode
This solution is specifically for installation-related issues. Certain files or background applications can lead to Quickbooks Update Error PS107. Clean installing QuickBooks in Selective Startup Mode ensures that no background application interferes with Quickbooks. Here are the steps you need to follow:- 
Note:- Create a backup of your company file before following these solutions.
Press the Window+R key and the Run window will open.
Type MSConfig in the text box and click on OK.
Choose Selective Startup and Load System Services in the General tab.
Select Hide all Microsoft services in the Services tab.
Choose Disable All.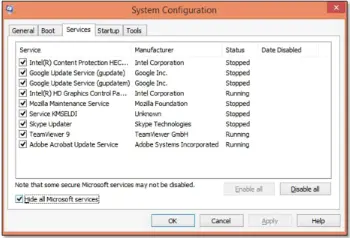 Untick Hide all Microsoft services checkboxes.
Ensure the Windows Installer checkbox is selected from the list of services.
Tap on OK.
Select Restart on the system configuration window.
Now Clean and install QuickBooks Desktop. 
Once it is done, press Windows+R and open the Run command window.
Type MSConfig and select OK.
Choose Normal Startup in the General tab.
Tap on OK.
Select Restart on the System Configuration window.
Solution 3- Update QuickBooks Desktop
An outdated desktop application is one reason for Quickbooks Update Error PS107. You need to simply update your application to fix it:-
Close your company file and then the Quickbooks application.
Tap on the Windows Start menu.
Search for QuickBooks desktop and then right-click on its icon.
Select Run as Administrator.
In the No Company Open window, go to the Help menu and choose Update QuickBooks Desktop.  
Tap on the Options tab, choose Mark All, and then tap on Save.
Go to the Update Now tab and tickmark the Reset Update checkbox.
Click on Get Updates.
Once the update finishes downloading, close QuickBooks and then reopen it.
Tap on Yes to install the updates.
Restart your system once QuickBooks is done installing updates.
Solution 4- Download Latest Tax Table
QuickBooks Error PS107 will also appear on your screen if the tax table is outdated. It is advisable to update your tax table every time you pay your employees. The steps to update your tax tables are as follows:-
Go to the Employees tab and select Get Payroll Updates.
Tick mark Download Entire Update checkbox.
Tap on Download Latest Update.
Note: You can download the latest version of QuickBooks here-
An informational window is supposed to pop up once the download process is over. 
Need Experts Help To Fix QuickBooks Error PS107
So now we hope you are well aware of what shall be done when QuickBooks Error PS107 occurs on your system. We discussed the various causes behind it and what shall be done to fix it. If your error still isn't resolved, reach out contact Asquare Cloud Hosting's expert team at +1.855.738.0359 and they will help you out with the best troubleshooting method.
The Following Blogs Can Help You –
Resolve QuickBooks Payroll Error PS036 – Can't Verify Payroll Subscription
What is QuickBooks Error PS038 & How Do I Fix It?