QuickBooks allows users to run the same company file on multiple systems and upload it on a network. It is called the multi-user access feature in the application. Sometimes users may be unable to use this feature because of QuickBooks error 6189 and 816. Users may not be able to open their company file using a multi-user network because of this error. The reason for this error is your network and not your company file. The error message you see on your screen is:-
An error occurred when QuickBooks tried to access the company file (-6189, -816)
Unable to open your company file because of QuickBooks error 6189 816? Quickly fix it by reaching out to an expert. Just call Asquare Cloud Hosting Helpline Number.

Reasons for QuickBooks Error 6189 816
QuickBooks Error 6189 816 occurs in the desktop version of QuickBooks. The problem is related to the multi-user mode of the application. These are the following reasons for it:-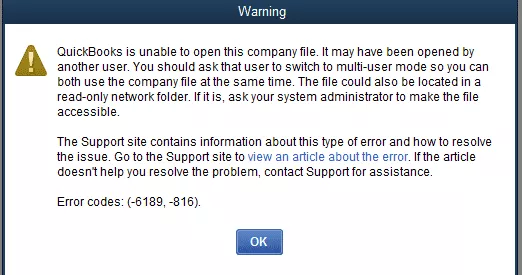 The system is unable to connect with the network.
QuickBooks database server manager is not functioning properly.
The company file is stored on a removable drive or Online space rather than a local drive.
There was a difference between the TLG record and your company file.
The location of your company file is damaged.
Outdated version of QBD.
Incomplete installation of QBD.
6 Troubleshooting Method for QuickBooks Error 6189 and 816
QuickBooks Error 6189 and 816 occur because of multi-user network issues. The primary methods to resolve this error includes running Quick Fix my Program, moving the company to a local drive, and restarting all the workstations and servers. There are more solutions for this error, let's look at all of them in detail:-
Solution 1:- Run Quick Fix my Program from QB Tool Hub
Quick Fix my Program tool helps repair minor file damages and network issues. QB Tool Hub will scan your application and repair QuickBooks Desktop error 6189, 816. The recent versions of QB have tool hub as a built-in feature, while the old version users had to download the stand-alone application. If you are using an old version of QB, you need to download and install the QuickBooks Tool Hub application. Follow these steps after running QB Tool Hub:-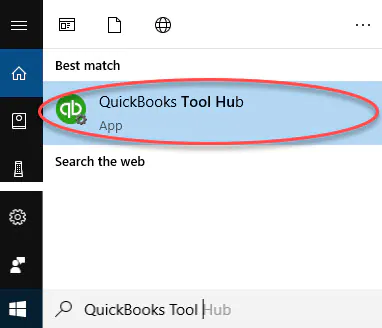 Click on Program Problems.
Choose Quick Fix my Program.
Now, wait for it to complete the process.
Rerun QuickBooks Desktop and run your company file.
Read More:- How to Resolve QuickBooks Error code 6190 and 816
Solution 2- Reboot Your Workstations and Server
Rebooting your systems and workstations helps undo a lot of unsaved changes. Things will come to reset after rebooting everything and it can fix QuickBooks error code 6189 816. Follow these steps to do so:-
Restart the system that is hosting your company file.
Note:- Contact our Asquare Cloud Hosting's expert team if you are using one of the affiliated Intuit Hosting Providers or any other cloud hosting service in order to host the company file.
Rerun all the workstations that are part of the network.
Run QuickBooks on your server system.
Now run QBD on all other workstations and open your company file.
Read Also: QuickBooks Running Slow – Follow These 9 Methods To Speed Up QB.
Solution 3- Shift Your Company File to Local Hard Drive
You may face error 6189 816 in QuickBooks Desktop Application if your company file is stored on a removable device or Online. You need to shift it on your local drive; these are the steps you need to follow:-
Run QuickBooks Desktop application on your system.
Create a backup of your company file and browse the location to save it on your local drive. Save the backup file where you can easily find it, preferably on the desktop.
Note:- Save the backup on your computer's local hard drive if your company file is hosted on a network. Don't save it to your computer's network.
Now close your company and rerun your QuickBooks Application.
Restore the backup file saved.
Now use your backup company file as your main company file and rename your original main company file.
Tip- You should save your QuickBooks company file on your system's hard drive. While online file hosting services such as Dropbox and iCloud are convenient to use, they can create issues.
Don't save your files on any external removable device such as USB and NAS. They aren't designed to run QuickBooks or multi-user networks.
Solution 4- Run QB Database Server Manager from Tool Hub
Your QuickBooks company file is stored on your server computer. Your workstations are the other computers that are connected to your network. QuickBooks Database Server Manager will keep your multi-user network stable if you're hosting it yourself. You can access it from the QuickBooks Tool hub, which you used in solution 1. These are the steps you need to follow:-
Run QuickBooks tool hub and select Network Issues.
Click on QuickBooks Database Server Manager and a message will pop up to install QuickBooks on your server if you don't have it.
In the running QuickBooks Database Server Manager, tap on Start Scan if you see your company file. You may have to Browse to your company file and then tap on Start Scan if it is not visible.
QuickBooks Database Server Manager will auto-repair your firewall permissions once the scan is finished.
Tap on Close and then run QuickBooks Desktop first on your server computer and then on your other workstations.
Note:- Make sure one of your workstations isn't set to host your multi-user network if QuickBooks Database Server Manager is installed.
Solution 5- Update QuickBooks Application
Outdated QuickBooks application is also one reason why QuickBooks error 6189 and 816 is occurring, and your multi-user access feature is not working. These are the steps you need to follow:-
Open QuickBooks in No Company Open Window and tap on Help menu.
Choose Update QuickBooks Desktop and click on Options tab.
Tap on Mark all and click Save.
Now go to the Update Now tab and tick the Reset Update box.
Click on Get Updates and the update will start downloading.
Now rerun your application and tap on Yes when the prompt to Install Update appears.
Solution 6- Restore Your backup File
It is always advised to create a backup of your company file regularly. If you are facing QuickBooks Desktop Error 6189, 816 while opening your main company file, you can go to your file's last backup and restore it. Keep in mind that you will have to redo what you did after the backup was created.
Note:- You should always save your backup file on your local drive.
Allow Experts to Help You Fix QuickBooks Company File error 6189, 816
So this has been all about QuickBooks errors 6189 and 816. QuickBooks tool hub has more tools that can help you fix file damages and network issues. If your error is still not resolved after following all the above solutions, reach out to an expert at Asquare Cloud Hosting Helpline Number +1(855)-738-0359, and they will provide you with further assistance.