QuickBooks is a world-class software helping businesses manage their books of accounts efficiently and effectively. QB has become a part of the daily routine for many companies, but unexpectedly users might face an issue while opening a file or a folder, and it might happen because of QuickBooks Error 6154. To elaborate, it occurs when the software system is unable to locate the appropriate company file or when the software system is unable to open the relevant company file.
What Are The Possible Causes For QuickBooks Desktop Error 6154?
This error is caused because of many small reasons which are very easy to fix. The reasons are as follow-
QB company file or folder is corrupted.
You did not log in to QB as Admin.
You did not log in to your computer as Admin.
Your file or folder path is incorrect.
Location is missing or incorrect.
4 Things You Need To Look Before Fixing QuickBooks Company File Error 6154
There are three different solutions for QuickBooks Error Code 6154, but before you act upon those solutions, there are other things that you need to do. There is a high possibility that following these measures will fix your error itself, and you will not have to go through the whole troubleshooting process.
Update the sync managers of Intuit to the latest version.
Check for Windows and QB updates. If available, download and install them.
Install a good anti-virus that will not harm your company file after scanning the system.
Copy your company file to another location and then try to open the same file.
What Are The Troubleshooting Steps To Follow When Intuit QB Error Message 6154 Appears?
If the issues still persist even after following the above-mentioned steps, you need to follow these steps in order to fix it-
Solution 1- Log into your system as Admin.
As we discussed that not being logged in as Admin is one reason for QuickBooks Error 6154. There are a lot of permission that is withheld at the admin level, and you can get clearance if you log in as Admin.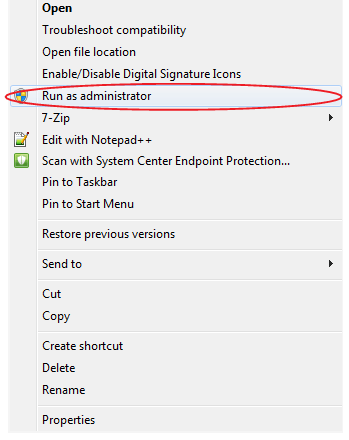 Restart your computer
Log in again in your system as Administrator.
Try opening the same file again.
This does not sound like a technical solution, but simply login in as administrator grants you the required permissions, which were hindering the process.
Also Read: 8 Ways To Fix QuickBooks Error 6069 [Explained]
Solution 2- Sync your files to the computer's hard drive
There is a possibility that the application is unable to find the location because the file is not synced to your system's hard drive. Follow these steps in order to fix it-
Log in to your system as Administrator.
Now move your company file and reset the Task manager.
Now move your folder to another location.
Browse your system and choose a new location for your file
Now create a New Folder in the new location.
Copy the files and folders from the previous location and paste them to a new location.
Now Reset Sync manager.

Tap on the QuickBooks help menu.
Select Manage Data Sync and then tap on the Reset Sync manager tab
Enter your ID and Password.
Allow Sync Manager' to complete the first sync.
Also Read: Types Of Company File Errors That Can Be Fixed Using Intuit QB Tool Hub.
So this has been all about QuickBooks Error 6154. We mentioned the possible causes for the Intuit QuickBooks error 6154 and also the steps that you can take into account, which might fix the error without going through all troubleshooting steps. Also, we have discussed all possible troubleshooting processes if the recommended steps fail. We now hope that you know what to do when the error occurs. QuickBooks offers a variety of tools to manage small and big businesses accounting needs.