With the help of QuickBooks accounting software, you can easily access the company file from the host or server system. QuickBooks hosting mode is a feature of QB Desktop that allows multiple users to access the same company file at the same time over the internet. When hosting mode is off, only one user can access the company file at a time. If your QuickBooks hosting mode is off, then you may come across specific difficulties while accessing the company file. Somehow you are stuck in such a situation, then you need to follow the below-listed tips:
First, you must set up multi-user in QuickBooks
Try tracking your server or the host system as the network drive for all workstations.
Store your company file in a shared folder.
Are you stuck and don't know what to do when the Hosting mode is off in QuickBooks? In that case, you can connect with our solutions consultant at Asquare Cloud Hosting Helpline Number and immediately resolve your QuickBooks multi-user mode error.

What Does Error: QuickBooks Hosting Mode Is Off Mean?
QuickBooks users encounter such an error while working on the multi-user mode of QuickBooks. It might hamper the performance of the QB software. Error QuickBooks enterprise hosting mode is off can occur due to various reasons behind it. One being, the Multi-User mode is not installed correctly, and the QuickBooks server mode has some issues as well.
If you incur a database server mode error, then, you won't be able to stay away from the QuickBooks Errors H101, H303, and H505. This mainly happens if you try working on a company file that is on another system, and the system requires an additional installation & setup.
What Are The Causes Of QuickBooks Hosted Mode Error?
As told above, the error QuickBooks Hosting mode is off may incur due to many possible reasons whenever the user tries to access QuickBooks files over a network:
If QuickBooks is unable to find the IP address for the system.
The 'Anti-virus' software does not allow access to the system where you have the company file saved.
Two systems won't be able to communicate as the Windows firewall blocks the communication.
There is damage in the '.ND file'.
You might incur some issues with hosting configuration settings.
You might not have installed QuickBooks database server manager.
The permissions required to open the Windows files are not as per requirement.
If your QuickBooksDBXX service has not started yet.
The hosting settings have an incorrect configuration.
What Points Must You Remember When QuickBooks File Doctor Hosting Mode Is Off?
Glance some key points here before you understand how to turn on hosting mode in QuickBooks:
How To Turn On QuickBooks Hosting Mode?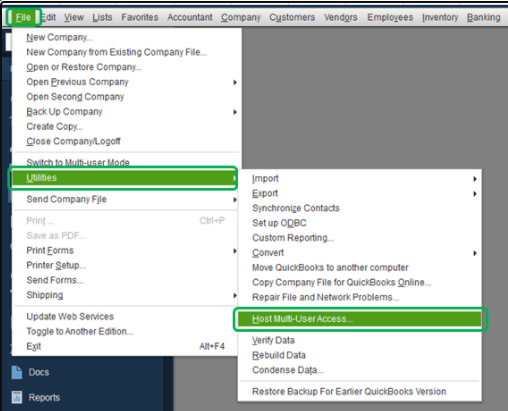 This error message indicates that the hosting mode in QuickBooks is turned off. Hosting mode allows multiple users to access the same company file at the same time. In order to enable hosting mode, an admin user must open the file and then turn on hosting mode in the File menu. You will get many options to correct QuickBooks hosting mode is off issue & install the Qb database server utility. Some of them have been listed below.
Also Read: Resolve QuickBooks Error 6129 | Database Connection Verification Failed.
Method 1: Try configuring the Default Settings
Before hosting QuickBooks on a server, Firstly, you must check the default settings are correctly configured; if not, follow the step below:
Firstly, open QuickBooks and click on 'Files'.
Now, click on the 'Utilities' option followed by 'Host Multi-user Access'.
Add the required number of users with the company file.
If the multi-user mode is enabled, click on 'Cancel.' Afterwards, it would help if you disabled it.
Make unique login credentials for all the users.
Lastly, your setup is complete for use.
If still error: Hosting Mode In QuickBook occurs, move to the next solution.
Method 2: Try reinstalling the QB software
Click on Start and navigate to the 'Control Panel'.
Under Program and Features, search QuickBooks.
If found, select QuickBooks and perform the uninstallation process.
Once done, download the required version of QuickBooks.
At last, click on the 'Multi-user mode hosting' and switch to it.
Method 3: Disable the Host mode on the systems
Initially, you need to log in as the system admin of the software.
Now, move to the 'File Menu' and Open 'Utilities'.
If Multi-User hosting is already in use, then, turn off the hosting.
Ensure that hosting mode is off in all the systems.
Also Read: Fix & Identify Multi-User Mode Error 6175.
Method 4: Verify If The QuickBooks services are efficiently processing
Firstly, look for 'Services.msc' and press Enter.
You will come across QuickBooksDBXX service appearing in the Services window.
Now, double-click 'QuickBooksDBXX' service.
In the 'Recovery' tab, try to restart the 'QuickBooksDBXX service' for the first, second and following failures.
To avail, the 'QBCFMonitorService' repeats the steps as mentioned earlier.
Lastly, try to start the software.
Method 5: Try adding your server in the 'Windows hosts file.'
Open the 'Windows hosts file'.
Once you listed the last IP address, insert an input point and satiate in the server's IP address.
Now, click on 'Tab' and satiate in the server name.
Next, move to the File menu and click on Save.
From the same menu, click on the 'EXIT' option.
Now, try opening the company file.
Also Read: What If QBDBMgrN not running on this computer error comes during QB server hosting?
Method 6: Turning on the Network Discovery on your device
If you see that the QB hosting mode is still off, try switching on the network discovery. Here, learn how to host QuickBooks on a server!
Navigate to the system control panel and then select the "network sharing center" option on the screen.
Head to the "change advanced sharing setting" and then expand your current profile.
Now you need to go to the "network discovery" and then turn it on.
Look for the "password-protected sharing option" and then click on the "turn off password-protection sharing option."
Now, just click on Save and exit the window.
Method 7: Opening the .qbw file on your desktop
Another method that can help in fixing the issue is opening of the company file. Here are the steps to be followed for QuickBooks add-ons hosting services.
Head to the "Quickbooks File Menu" and then select "Open" or "Restore Company File."
Next, just look for the location of your company files and then navigate to the location.
Here you will have to select the file with an extension as .qbw in the folder.
Now, just press "open" and then enter your login credentials when asked.
Need Help To Fix QuickBooks Enterprise Hosting Mode Is Off
With the help of the procedures mentioned above, you can quickly learn how to switch to multi-user mode in QuickBooks. We hope that users will manage to solve the error: 'QuickBooks hosting mode is off. This article entails all the known causes and troubleshooting methods that can be responsible for this error. Here, we would wind up this article with the hope that you will show faith in QuickBooks and follow the above-given solutions to eliminate the error.
If you want a free demo, you must get in touch with our Quickbooks Remote Hosting service provider at Asquare Cloud Hosting Helpline Number +1(855)-738-0359. We promise to serve you with the best hosting experience at affordable prices.
FAQ's
Ques1. How do you turn on hosting mode in QuickBooks?
Ans. Hosting mode can be enabled in QuickBooks by going to the File menu, selecting Utilities, and then selecting Host Multi-User Access. When prompted, choose Yes to turn on hosting mode and allow multi-user access.
Ques 2. What does QuickBooks Cloud hosting Mean?
Ans. QuickBooks hosting is a cloud-based service that allows users to access QuickBooks accounting software from any location with an internet connection. The software is hosted on remote servers and accessed through a web browser, eliminating the need for the user to have the software installed on their own computer. This allows users to access their QuickBooks data from anywhere, at any time.
Ques 3. How do you turn off hosting in QuickBooks?
Ans. To turn off hosting in QuickBooks, go to the "Company" menu, select "Manage Users," click "Manage Hosting," and then select "Stop Hosting." You will then be asked to confirm that you want to stop hosting and enter your QuickBooks administrator password. Once you have done this, hosting will be disabled, and you will no longer be able to access or share your company file with other users.
Ques 4. What to do if disable QuickBooks hosting on client computers.
Ans. 1. Open QuickBooks on the client's computer. 
2. Go to the File menu and select Utilities. 
3. Select Stop Hosting Multi-User Access. 
4. Click Yes to confirm the action. 
5. Repeat steps 1-4 for each client computer.
Quea 5. Types of QuickBooks Desktop hosting modes.
Ans. There are three types:
1. Dedicated hosting
2. Peer-to-peer hosting
3. Alternate hosting
Ques 6. How can you access the files after the QuickBooks Hosting Mode issue has been fixed?
Ans. 1. Use the Remote Desktop Connection (RDC): The RDC allows you to connect to the server hosting the QuickBooks data files. Once connected, you will be able to access the files directly from the server. 

2. Use File Transfer Protocol (FTP): FTP is a way to transfer files between computers securely. You can set up an FTP server on the computer hosting the QuickBooks data files and then use an FTP client to access the files from another computer. 

3. Use a Network-Attached Storage (NAS) device: A NAS device is a dedicated storage device that is connected to a network. You can set up a NAS device to store the QuickBooks data files and then access the files from any computer on the network. 

4. Use a Virtual Private Network (VPN): A VPN allows you to create a secure connection between two computers or networks. You can set up a VPN connection between the computer hosting the QuickBooks data files and the computer you are using to access the files.

Related Search Terms
QuickBooks Desktop company file hosting not working
Summary
Article Name
Best Tips To Turn On QuickBooks Hosting Mode On Client Computers
Description
If unable to access company file due to hosting mode off, Learn here 5 best Troubleshoot Solutions how to turn on QuickBooks hosting mode if disable on client Desktop. Our Expert helps you immediately with troubleshooting the error: QB hosting mode is off.
Author
Publisher Name
Publisher Logo