QuickBooks application is known for its amazing tools, features, and benefits that simplify accounting processes. One of the important resources among these is the QuickBooks migration tool which is designed to facilitate seamless data transfer from one desktop to another. This tool is particularly advantageous for individuals who frequently switch their computer systems.
While some aspects of data migration may be straightforward, not everything can be done easily. Fortunately, there are two easy methods to migrate your QuickBooks data: manual transfer or using the QuickBooks migration tool. In this article, we will explain the detailed steps to use the migration tool and make your data migration journey smoother.
Need Help with QuickBooks Data Migration using the Migrator Tool? Don't worry! Get the assistance of our experts by simply making a call on our Asquare Cloud Hosting Helpline Number +1.855.738.0359. If QuickBooks migration fails unexpectedly. Our team members will be there to help you 24×7.

What Are The Key Benefits Of Using Data Migration Tool in QuickBooks?
Like any other software, QuickBooks also believes in offering support, convenience, security, and ease- as much as possible. The migration tool helps in extending this service. So, here are some quick benefits of the tool.
It makes "working from anywhere" quite convenient, organized, and easy to set up.
You keep getting all the updated features and tax rates, whatever is important and needed.
The automated process of data backup keeps you covered even while on the go.
Now, you will have to do fewer data entries on your software, which will make it so much smoother to work.
How Does the QuickBooks Migrator Tool Work?
Below we have listed all the steps that you need to follow for the uninterrupted working of the QB Migration tool:
Firstly, you have to create a strong password to unlock the data copied to your new computer. Write down the password so that you do not forget it; you will need it only once while using the migrator tool.
The tool will copy up to the last 3 company files that were opened, along with all supporting files, to a USB flash drive.
You will need the USB drive just to move the files, but the Migrator Tool will do all the technical work.
Migration Tool automatically downloads the compatible version of QB Desktop on your new computer and will also set it up with your company files.
After complete transfer, the QB migratory tool won't erase any data from your drive.
Note: If the files on the USB are from the 64-bit QuickBooks Desktop 2022 or 2023 version and you are running the migrator tool on a 32-bit Windows system, it may stop unexpectedly. QuickBooks can only be migrated in similar versions of the operating system.
Who Can Use The Data Migration Tool?
If you do not have access to your QuickBooks Desktop application or it is outdated, then do not worry. Anyone with the QB Desktop can use this tool and do the migration for you. You just need first to check the points given below to use the tool conveniently.
If you are using QuickBooks Enterprise, pro, premium, and desktop versions for Mac files.
The data can be moved from your QB company files (.QBW), backup files (.QBB), portable files (.QBM), and QB Desktop for Mac files if you have saved a backup for Windows (.qbb).
Also when you are an accountant who doesn't have its own QuickBooks desktop but wants to help a client move to QuickBooks online.
You do not have a QuickBooks Desktop, but you have a QB Desktop file that you want to move to QB Online.
If your QuickBooks desktop file is the 2011 version or later. However, if you are using the files from 2010 or earlier versions, then you need to follow some other steps first, and then you can use the tool. Contact our technical assistance team for help in that case.
Basic Requirements for Running QuickBooks Migration Tool
Here, we have mentioned certain things that you must consider while transferring a QuickBooks desktop to a new computer:
You must connect your new computer to the Internet.
You need to have a USB flash drive with enough free space for storing your QuickBooks files. Also, the Migrator Tool tells in prior about the amount of space required. In general, it's between 150 and 250 MB.
Things To Take Care of Before Using QuickBooks Migration Tool
Before you use the tool, make sure to go through the points given below first:
Ensure that the chart of accounts balances is up to date and accurate.
Make sure your balance sheet is balanced after your latest tax return.
Reconcile your bank and credit card statements.
Categorize the open transactions.
Pay any outstanding invoices in your account.
Finish all the outstanding payroll runs or payroll tax payments.
Data that Can and Cannot be Transferred Using the QuickBooks Migration Tool
With the QB Migration Tool, you can transfer the required data that you need to keep the application up and running on your new computer. None of your data gets deleted from your old system. So, check the list below of data that gets copied, and that does not:
A- Data that the QuickBooks Desktop migration tool is capable of copying:
QuickBooks Desktop detail includes the version & other information you need to install QB Desktop on the new computer.
It also copies the last 3 company files that you opened on the old computer. It may also include the sample files.
Related files, custom templates & forms
QuickBooks letters and templates
Scheduled & memorized reports
Local attachments
Printer Setting (PrintEng.ini, wpr.ini, and QBPrint.qbp)
Spell Checker (spell.ini and UserDictionary.tlx)
Financial Statement Designer (FSD clients, FSD data)
Cash Flow Projector (.cfp)
Business Planner (.bpw)
Loan Manager (.lmr)
Statement writer (for QuickBooks Accountant)
Advanced reports (for QuickBooks Enterprise)
B- Data that QuickBooks Migration Tool doesn't copy:
Multi-user setup: You won't be able to copy your new computer's configuration if you're using QuickBooks Desktop in a multi-user setup.
Payroll & payment setup: If you have set up payroll or payment services on your old computer, you have to log in again on the new computer. It will make sure that your data is protected.
Intuit Data Protect (IDP): If you have IDP, uninstall it on the old computer, sign in again on the new computer and repeat the setup process.
Older Company Files: The QB Migrator tool will copy only the last 3 company files that you have opened. If there are other such files, then they will be moved manually or restored from IDP.
Backup files: If you have created any manual backups, then they won't be copied as well.
Detailed Steps To Setup QuickBooks Migration Tool
We have distinguished the steps of using the Tool to move QuickBooks to another computer. You need to follow the below-mentioned steps on the old and new computers: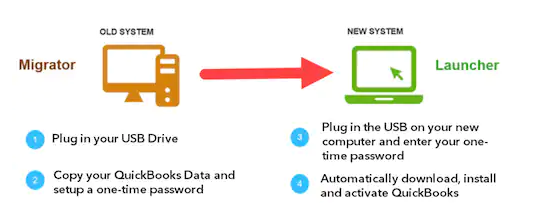 Step 1: On the Old Computer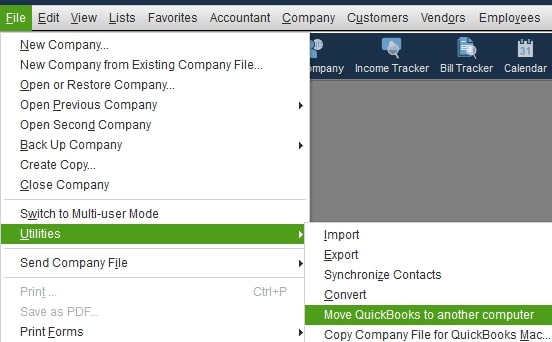 After that, click on the option I'm Ready and make a strong one-time password.
Follow the instructions on your screen to choose the USB flash drive you wish to use. Now, wait till the files get copied.
Read Also: How to Reset QuickBooks Password Manually & With Tools?
Step 2: On the New Computer
Plug in the USB flash drive in the first place. At times, due to Windows security restrictions, the Migrator Tool may not launch automatically.
Open the flash drive to view files on it and double-click on the Move_QuickBooks.bat file to begin the migration.
Now, enter the password that you just created and click on Let's go.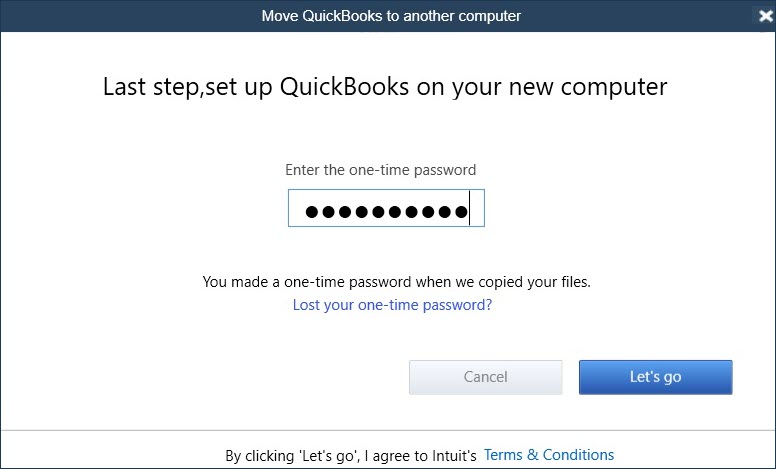 Wait till the Migrator Tool finishes the migration process. The time may vary depending on your computer & internet speed and the size of your company file.
Note: If the migration process doesn't start even after selecting and running the company file, you must update Windows 10.
Also Read: What to do if QuickBooks won't Backup to Flash Drive.
What to Do After Migrating QuickBooks Desktop To A New Computer?
Not all the information is copied by the QuickBooks data migration tool. Therefore, you need to perform a few more steps to keep QuickBooks up and running on the new computer. The steps may vary depending on the data that you have on the old computer:
To begin, you have to sign in to your payroll & payment services.
Then, sign in to Intuit Data Protect (IDP) and set up your backup schedule.
After that, you have to transfer any of the additional company files from your old computer to the new computer.
You are always advised to make a backup of your company file.
Also Read:- How To Fix Intuit Data Protect Has Stopped Working Issues?
How Can You Manually Move Or Reinstall QuickBooks?
Follow the below-given steps if you want to install QB manually on a new device:
You must have the product and license info with you.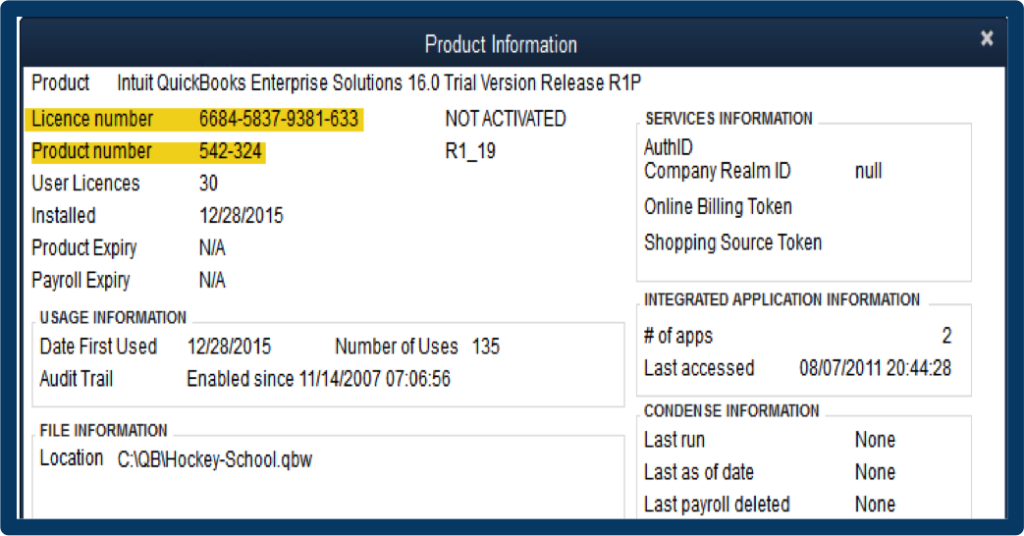 Before you try to reinstall, you must uninstall the existing QuickBooks program.
You must download the installation files or insert the CD on the system where you want to install QuickBooks Desktop.
Now, you can Install QuickBooks Desktop like you usually do.
Steps To Migrating from QuickBooks Desktop to QuickBooks Online
Before you migrate your data from QB Desktop to QB Online, perform some preparatory steps to ensure a smooth data migration.
Steps to Prepare for Migration
Before you start the conversion process, you need to follow the below-given steps to make sure everything is ready to migrate and your information gets migrated properly.
1. Back-Up Your Company File
Before you migrate your data to QB Online, you need to back up your company file. Taking regular data backups is considered a good practice for QuickBooks Desktop users. However, in QB Online, your data is stored on the cloud, so you do not need to back it up manually.
2. Update QuickBooks Desktop
You need to download and install the latest updates for QB Desktop before beginning the migration process. However, make sure to switch to the Single-user mode before updating the application. Then, you can update the application by going to the Help tab < Update Now, and then select Get Updates. If you use the Payroll, then you can run it now.
3. Check Your Total Targets
Check the total targets in QuickBooks Desktop by pressing the Ctrl + 1 keys and opening the Product Information window. You will get the Total Targets in the File Information section.
If you have Total Target numbers over 700,000 for Canada and over 500,000 for the UK and South Africa (ZA), then only you are eligible for a list and balances conversion.
4. Remove Ministere du Revenu
This step is only for companies outside of Quebec. You just need to Navigate to the Supplier Center and identify the Minsitere du Revenu. Then, open the supplier and navigate to Sales Tax Settings, uncheck all the boxes to make the supplier inactive.
5. Turn off Payroll In the QuickBooks Desktop File
To avoid any post-migration payroll issues, you need to turn the payroll off in the QuickBooks Desktop file before starting the migration process.
6. Save Sales Tax Liability Report
Before migration, save or print your Sales Tax Liability report. This will help you enter the adjustment entries after you are done migrating your data. You can do it by going to the Reports menu and then selecting Suppliers & Payables. Then, go to Sales Tax Liability, select All in the Dates dropdown, and then Save as PDF from the Print dropdown.
7. Export Your Reports And Lists
This is an optional step and generally needs to be done only if your company has more than 700,000 targets. Otherwise, you can just skip this and move on to the next step.
8. Create Your QuickBooks Online Account
You need to get a QB Online subscription before you start the migration process. Just check the available subscription plans, review the basic system requirements, and select a plan that suits your needs and provides the best QuickBooks Online experience. When you are asked to sign in to QBO, use the credentials you used to sign in to the QB Desktop account.
Note: You can only move your company files within 60 days after you sign in to QuickBooks Online. So, ensure to convert within the given timeframe when you subscribe to QBO.
Migrate Your Data To QB Online
Follow the below-given steps as per your edition of QuickBooks Desktop when you are ready to export your files.
Note: You need to use a trial version of QB Desktop to convert the files if you are using a version that is older than 2017.
Migrate From QuickBooks Desktop Pro or Premier
In the QB Desktop, log in as an admin of the company file you want to import.
Then, go to Company < Export Company File to QuickBooks Online.
After this, select Get Started, followed by Select Destination.
Complete the process by signing in to your QuickBooks Online account.
Migrate From QuickBooks Desktop Enterprise
First, log in as an admin to the company file you want to import.
Then, press F2 to get the product information tab.
When the product information window is open, press the CTRL + B + Q and hit the OK button given at the bottom of the page.
Now, if you track inventory in QB Desktop, then do the following:
Click Yes to bring them over and specify the starting date.
Click the No button to set up new items later in QuickBooks Online.
When the process of conversion is completed, you will get an email. Select the Complete your setup button from the email.
Then, sign in to your QB Online account and select the company file you want to open.
Your QuickBooks Online dashboard will now open.
Move Your Lists To QB Online
After your QB Online dashboard opens, you need to import the lists that you had exported from the QB Desktop. Check below the list that you need to import.
Chart of Accounts
Products and Services
Customer
Supplier
Set Up Inventory
You can also enable inventory tracking in QB Online. It calculates the inventory costs from the inventory start date using the First-in-First-Out method. However, if you do not prefer to use FIFO or enable inventory in QuickBooks Online during setup, click No, don't turn on the inventory option.
What To Do After Migrating Data
After you have migrated your data, you need to perform a few steps before using QuickBooks Online. Make sure to perform the below-given steps before changing the data or entering new transactions.
Check your data by comparing reports.
Confirm your company settings.
Configure your sales tax settings.
Connect your bank and credit card accounts
Clean up any bank reconciliations
Link payments and credits to open invoices
Review the detailed types of your accounts.
Complete the payroll setup
Link your Payments accounts
Add users to your QB Online
Invite an accountant
What If the QuickBooks Migration Tool Is Not Working?
This article was curated so you can make a smooth transition from QuickBooks Desktop to another computer and from Desktop to Online using the QuickBooks Migration Tool. However, if the procedure mentioned in this article is not working for you and you are worried about your data, we recommend you get help from our experts.
For that, all you need to do is give us a call on our Asquare Cloud Hosting Helpline Number at +1.855.738.0359. Our experts will make sure to provide you with the best service by keeping your data secure. You will be adhered to immediately. Our team members will not only help in determining the cause and the problem, but also in helping you with the solution.
Frequently Asked Questions
1. Can I use the QuickBooks Migration Tool to migrate from QB Online to Desktop?
Ans: Yes, the QuickBooks migration tool can be used to migrate from QB Online to Desktop.
2. How long it takes to migrate QB using the QuickBooks migration tool?
Ans: Migrating QuickBooks Desktop using the migration tool can take up to two hours once the data is uploaded.
3. Where can I download the QuickBooks Migration Tool?
Ans: You can access the QB Migration Tool by changing the URL for QuickBooks Online in your browser. Just sign in to QB Online using a supported browser. Then, replace anything after /app/ with exportqbodatatoqbdt in the URL. Now, in the Export Overview screen, click the Get Started button. Then, download the tool.