Many of us would be changing our computers every few years. Well, the reason behind this can be any. It might be speed, better configuration, more space, etc. However, while transferring your QB data, a few things might be a cakewalk but not everything is easy. You can migrate your QB data either manually or by using the QuickBooks migration tool.
Need Help with QuickBoks Data Migration using migrator Tool? Don't worry! Get the assistance of our experts by placing a call on our Asquare Cloud Hosting Helpline Number +1.855.738.0359 If QuickBooks migration failed unexpectedly.
How Does the QuickBooks Migrator Tool Works?
Below we have listed all the steps that you need to follow for an uninterrupted working of the QB Migration tool:
Firstly, you have to create a strong password. It will help you unlock the data copied to your new computer. This password is used by the Migrator tool only once. Therefore, you must note it as you will require it during the migration process.
The tool will allow you to copy up to the last 3 company files and all supporting files that you accessed, to a USB flash drive.
The Migration tool will do the technical work but Flash drive can be used to copy and transfer few files.
Migration Tool automatically downloads the compatible version of QB Desktop on your new computer and will also set it up with your company files.
After complete transfer, QB migratory tool won't erase the drive's data.
Basic Requirements for Running QuickBooks Migration Tool
Here, we have mentioned certain things that you must consider while transferring QuickBooks desktop to a new computer:
You must connect your new computer to the internet.
You need to have a USB flash drive with enough free space for storing your QuickBooks files. Also, the Migrator Tool tells in prior about the amount of space required. In general, it's between 150 and 250 MB.
Data that Can and Cannot be Transferred Using QuickBooks Migration Tool
With the QB Migration Tool, you can transfer the required data that you need to keep the application up and running on your new computer. More over, most users have a rough idea of the amount of extra work required to bring all of their data to a new computer. Below we have listed all the data that the tool copies and what it does not.
A- Data that QuickBooks Desktop migration tool is capable of copying:
QuickBooks Desktop detail includes the version & other information you need to install QB Desktop on the new computer.
It also copies the last 3 company files that you opened on the old computer. It may also include the sample files.
Related files, custom templates & forms
QuickBooks letters and templates
Scheduled & memorized reports
Local attachments
Printer Setting (PrintEng.ini, wpr.ini, and QBPrint.qbp)
Spell Checker (spell.ini and UserDictionary.tlx)
Financial Statement Designer (FSD clients, FSD data)
Cash Flow Projector (.cfp)
Business Planner (.bpw)
Loan Manager (.lmr)
Statement writer (for QuickBooks Accountant)
Advanced reports (for QuickBooks Enterprise)
B- Data that QuickBooks Migration Tool doesn't copy:
Multi-user setup: You won't be able to copy your new computer's configuration if you're using QuickBooks Desktop in a multi-user setup.
Payroll & payment setup: If you have set up payroll or payment services on your old computer, you have to log in again on the new computer. It will make sure that your data is protected.
Intuit Data Protect (IDP): If you have IDP, uninstall it on the old computer, sign in again on the new computer and repeat the setup process.
Older Company Files: The QB Migrator tool will copy only the last 3 company files that you have opened. If there are other such files, then they will be moved manually or restored from IDP.
Backup files: If you have created any manual backups, then they won't be copied as well.
Detailed Steps To Setup QuickBooks Migration Tool
We have distinguished the steps of using the Tool to move QuickBooks to another computer. You need to follow the below-mentioned steps on the old and new computer: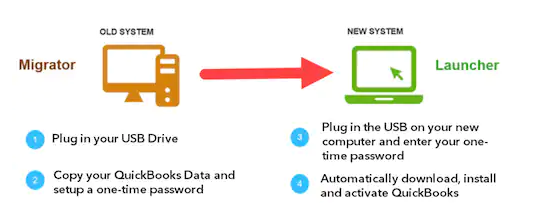 Step 1: On the Old Computer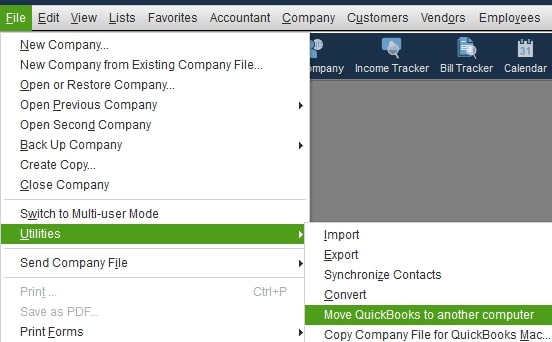 After that, click on the option I'm Ready and make a strong one-time password.
Follow the instructions on your screen for choosing the USB flash drive you wish to use. Now, wait till the files get copied.
Read Also: How to Reset QuickBooks Password Manually & With Tools?
Step 2: On the New Computer
Plugin the USB flash drive in the first place. At times, due to Windows security restrictions, the Migrator Tool may not launch automatically.
Open the flash drive for viewing its files and double-click on the Move_QuickBooks.bat file to begin the migration.
Now, enter the password that you just created and click on Let's go.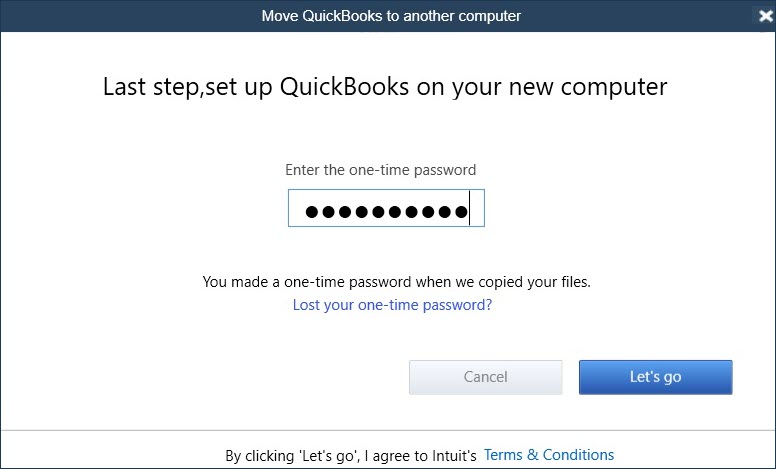 Wait till the Migrator Tool finishes the migration process. The time may vary depending on your computer & internet speed and the size of your company file.
Note: If the migration process doesn't start even after selecting and running the company file, you must update Windows 10.
Once done, the migrator files will be deleted from your USB flash drive on their own. However, the QuickBooks files will be on your old computer only. Thus, you must change the name of the company files saved on your old computer to avoid using the wrong file.
What to Do After Migrating QuickBooks Desktop To A New Computer?
Not all the information is copied by the QuickBooks data migration tool. Therefore, you need to perform a few more steps to keep QuickBooks up and running on the new computer. The steps may vary depending on the data that you have on the old computer:
To begin, you have to sign in to your payroll & payment services.
Then, sign in to Intuit Data Protect (IDP) and set up your backup schedule.
After that, you have to transfer any of the additional company files from your old computer to the new computer.
You are always advised to make a backup of your company file.
How Can You Manually Move Or Reinstall QuickBooks?
Follow the below-given steps if you want to install QB manually on a new device:
You must have the product and license info with you.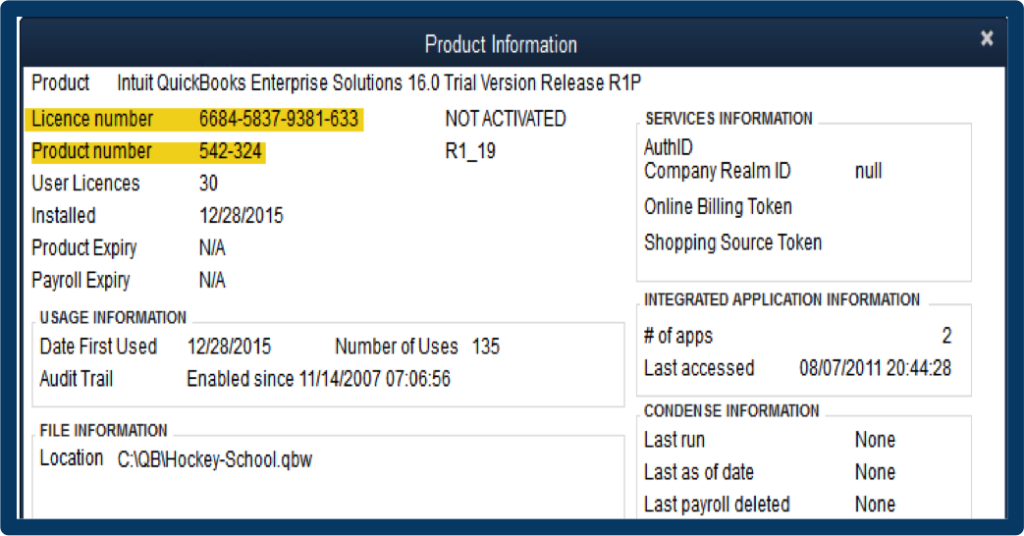 Before you try to reinstall, you must uninstall the existing QuickBooks program.
You must download the installation files or insert the CD on the system where you want to install QuickBooks Desktop.
Now, you can Install QuickBooks Desktop like you usually do.
What If QuickBooks Migration Tool Not Working
We hope the information provided in this blog about QuickBooks Migrator Tool would have helped you move QB to your new computer. Sometimes, the work can be hampered due to internal file errors. Hence, you must avoid such situations and the security of data from getting damaged. If you need any further assistance, we suggest you give us a call on our Asquare Cloud Hosting Helpline Number (+1.855.738.0359). Our experts will make sure to provide you with the best service by keeping your data secure.