QuickBooks users regularly need to access and update company files, often located on another computer in the network. However, sometimes they encounter error code 6123 in QuickBooks Desktop, which prevents them from updating or restoring backup files, etc. Resolving QuickBooks error 6123 needs professional guidance as it is related to the company file. Therefore, when you are troubleshooting and fixing can't open company file error, follow pre-approved steps. A wrong step can lead to losing company files, which you don't want to happen.
Well, don't panic if you have come across such an issue. You can easily resolve it with the help of expert guidance or allow them to resolve it for you. Call us on our Asquare Cloud Hosting Helpline Number and get instant assistance.

An Overview of QuickBooks Desktop Error 6123 0
While trying to restore, open, or upgrade the QB company file, you may come across QuickBooks error code 6123. System firewall restrictions, Damaged data files, or any antivirus program can be the main reason for such an error code. Besides, it also occurs while opening a company file from the multi-user network. Whenever you encounter any such error, you'll see an error message on your screen that reads as:-
"Error 6123, 0
We're sorry, but QuickBooks can't open your company file."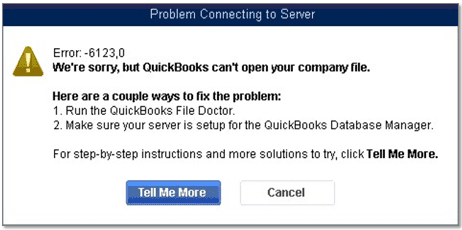 The error 6123 in QuickBooks Desktop can appear due to many other reasons as given below. Let's go through them.
The 6 Causes of QuickBooks Company File Error 6123, 0
Various conditions can cause such errors in QuickBooks 2018, 2019, or other versions. Below we have mentioned all the major reasons that lead to QuickBooks company file error 6123:
QuickBooks Error Code 6123 takes place due to damaged QB data files.
You might have selected the block Web Bugs filter option in your McAfee antivirus.
A firewall is blocking a port that you need to communicate with the server hosting the file.
Another reason is the damaged Windows OS.
It occurs due to multiple versions of the QuickBooks database server.
You might have changed the system's name on which you hosted the company file.
QuickBooks Desktop application might not work well when you can't access company files. The good news is that you can easily troubleshoot error -6123, 0 with the most effective methods listed below.
How To Repair Company File QuickBooks Error 6123, 0?
Before you go through the troubleshooting steps mentioned below, you must turn off your antivirus and security programs. After that, follow these solution methods to fix QuickBooks error code 6123 0 in 2008-2020 QB versions.
In general, there are three conditions when encountering Error 6123 0 QuickBooks in the desktop version.
When you see QuickBooks Error Code 6123 while Opening or Restoring your Company file.
When QuickBooks Desktop Error 6123,0 Occurs while Restoring your Company file (.qbw).
When You Encounter Intuit QB error 6123, 0 While Restoring a Backup (.qbb) on a New system.
Condition 1: When you see QuickBooks Error Code 6123 while Opening or Restoring your Company file
Make sure you're opening the company file within QuickBooks. If you try to open the file with Windows Explorer, you may encounter several issues.
Method 1: Run QuickFix My Program
You need to Download & Install QuickBooks Tool Hub to run QuickFix My Program. Try using the tool hub on Windows 10, 64-bit. After that, follow the below steps for carrying out this resolution method & fix your QB error 6123: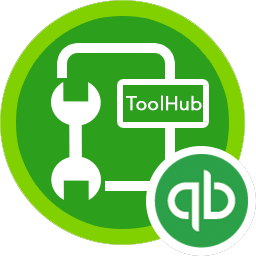 Open the most recent version (1.4.0.0) of QuickBooks Tool Hub and select the Programs Problems option.
Then, select the QuickFix my Program tab. It might take some time to run if you have installed multiple versions of QuickBooks on the system.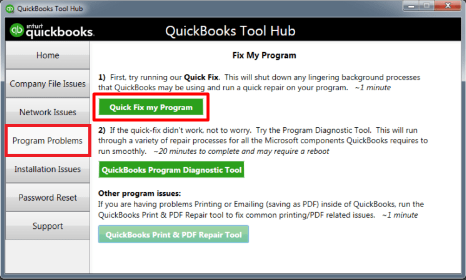 Open QuickBooks when QuickFix my Program finishes & check if the error code 6123 persists.
Read Also: How To Resolve QuickBooks Error 6094? – A Database Error
Method 2: Run QuickBooks File Doctor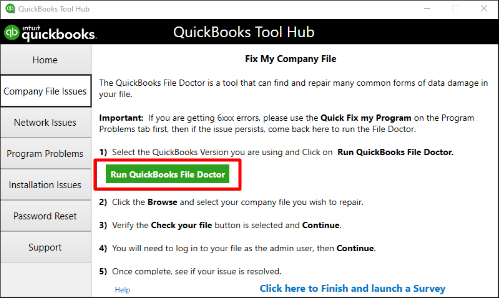 Sometimes, QB is not able to open your company files due to damaged data in the file. In such a case, you must use the QuickBooks file doctor tool to eliminate damaged files issues. This should resolve the QuickBooks error -6123 for you.
For detailed steps on how to run it, follow our article, How To Download And Run QuickBooks File Doctor Tool. After repairing the data files, try running QuickBooks again to check if the issue is resolved.
Method 3: Rename the Company file or Remove special characters
You might end up with error 6123 QuickBooks if your company file name has any special character or if the file name exceeds the character limit. For that, you need to ensure that the name follows the criteria listed below:
The file name should not exceed 30 characters.
Additionally, your file shouldn't contain any special character or space.
You can try renaming the Company file to troubleshoot this issue.
Does QuickBooks error 6123 persist even after you have followed all the above methods? If yes, you should proceed with method 4.
Method 4: Renaming the .ND and .TLG file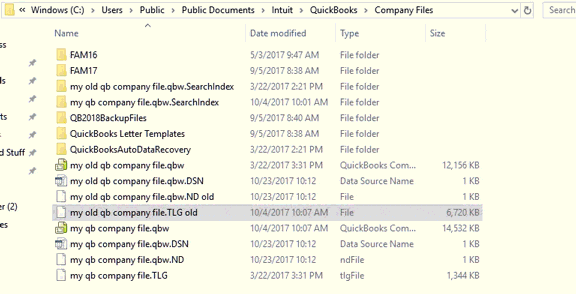 Initially, open the folder in which you have saved your company file.
Further, select the required .ND file.
Right-click the company file and click on the rename option.
After that, you have to rename .ND file to .AND.OLD.
Rename the .TLG file in the same way.
Finally, open the QuickBooks company file.
Read more: How to Resolve QuickBooks Error 6000 83? (Company File Issue)
Method 5: Create a New Windows User
There is a high chance that Windows user logins are corrupt. In such a situation, you can follow the below-given steps to create a new user: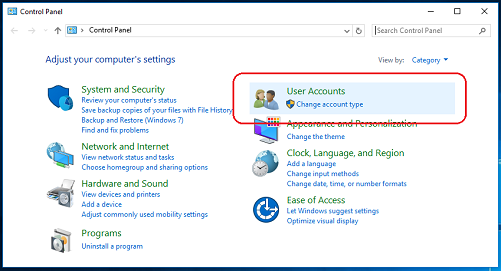 Open Control Panel and click on the Create new user option in the User icon.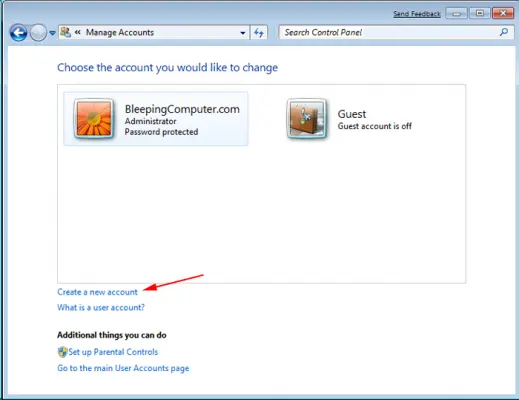 Then, select the administrator for the user type.
Moving ahead, reboot the system, and log in using the new user credentials.
Now, move the company file to the desktop.
At last, open QuickBooks and try to access the company file.
Method 6: Disable the System Security Programs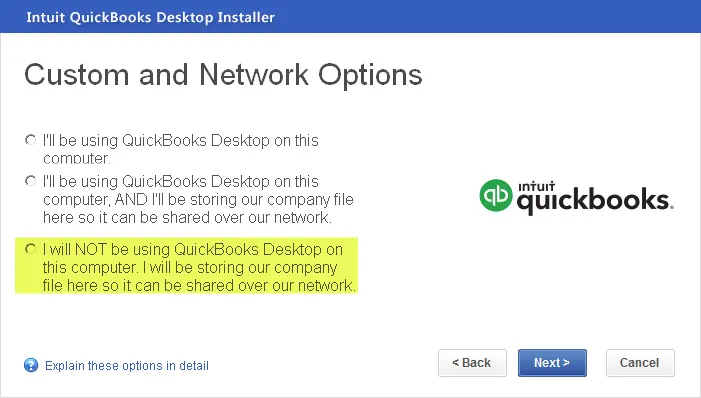 You might end up with error code 6123 0 with QuickBooks if you are using McAfee security software. Many times the antivirus program interferes with the company file and considers it as malware. It will restrict the user from opening the company file. In such a scenario, disable the Antivirus application and then try to open the company file.
Read Also: Error: Windows Firewall Is Blocking QuickBooks- Here's How To Fix It
Method 7: Move the Company file to a Different Location
To verify if the file path is causing the issue, you have to move the file to a different location and open it from there. For that, follow the below-mentioned steps: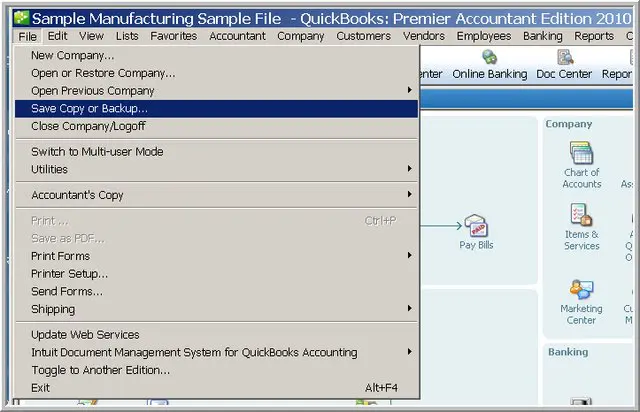 Go to the folder where you have stored your company file.
Right-click on the company file and select copy.
After that, make sure that you copy the right file with the extension .QBW.
You must copy the file to the desktop.
Right-click on the blank space, and then click on New, followed by the folder option.
Lastly, you have to open QuickBooks and try accessing the company file from the new location.
Condition 2: When QuickBooks Desktop Error 6123,0 Occurs while Restoring your Company file (.qbw)
Solution 1: Restore the Company file from Local Drive
The user is supposed to move the backup file to the local hard drive. And also, avoid opening them from an online storage folder or remove the drive. For restoring the company file from a backup, you must follow the below steps:
Firstly, you have to open QuickBooks.
Then, go to the File menu and select Open or Restore Company.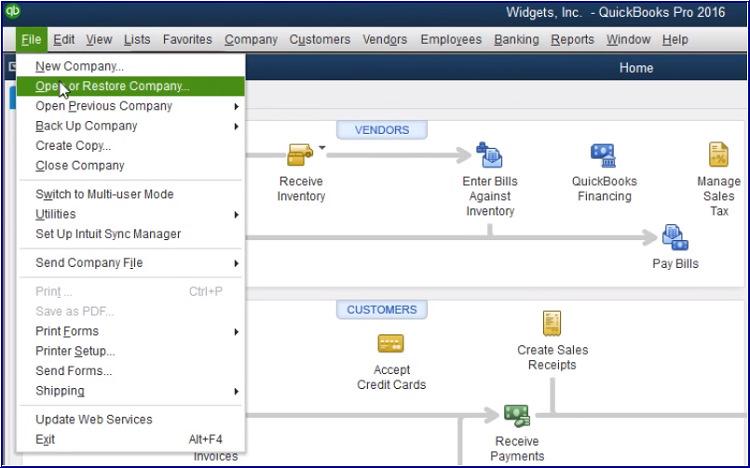 Select the option Restore a backup copy> Next.
Now, click on Local Backup> Next.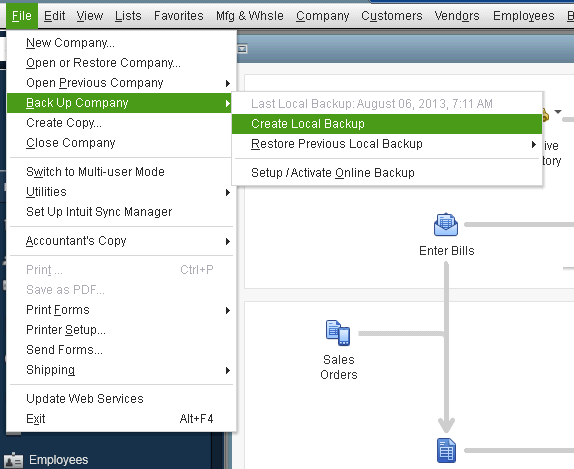 You have to search for your company file. You must have saved it like this: [Your company name].qbb.
Moving ahead, choose a folder to decide where you want to save your restored company file and then, select Open.
Select Save when you are ready.
Also read: Resolve QuickBooks Restore Failed Issue
Condition 3: When You Encounter Intuit QB error 6123, 0 While Restoring a Backup (.qbb) on a New system
Solution 1: Create a portable company file (.qbm) for restoring the company file
While you come across Error 6123 in QuickBooks Enterprise while restoring the backup on a new system, you must create a portable company file. Then, you have to restore the company file and follow the below-mentioned steps:
Open QuickBooks desktop on the same system in which you created the backup of your company file.
Then, you have to open the original company file.
After that, create a portable file of it by following the below steps:

Firstly, you have to open QuickBooks and then login as an Admin.
Then, navigate to the File menu and click on the Create copy option.
Now, select Portable company file> Next.


Give your portable company file a unique name.
Save it on an easy location like Windows Desktop.
Lastly, select Save and then OK.

Once done, open the QuickBooks desktop on the new system.
At last, restore the company file by using the portable copy instead of the backup file.
Solution 2: Use QuickBooks Auto Data Recovery
The auto data recovery process can help you restore the company file. Try restoring the .adr copy of this file and check if it works or not. If you are looking for a detailed procedure, you can follow our QuickBooks Auto Data recovery article.
Some Additional Solutions For Error Code 6123 In QuickBooks Desktop
Hopefully, the methods above have helped you resolve error -6123 in QuickBooks desktop. However, if you are still stuck with the issue, you can try these additional methods to fix the error 6123 0. Moreover, you can also contact us and talk to our expert advisor to resolve the issue in minutes.
Try updating your Quickbooks Desktop
One of the most important things that have to be done is updating Quickbooks. Be it a small or large update, you must carry it through and get it done with. This way, you can use the newer version of tools, features, and other things.
Also, if you are suffering from company file error 6123 in Quickbooks; we suggest, check your updates and get them downloaded and installed.
First of all you will have to open the Quickbooks Desktop on your device.
Then look for the "help tab" and click on it.
From the list of options that open in front of you, choose "update Quickbooks Desktop."
Next, you will have to look for the "update now" option and click on it.
Note: You can also click on "reset update" and clear all the previously selected downloads.
After this you will have to select "get updates" which will start the downloading part.
As soon as the download gets completed you will have to restart the software.
Wait for the prompt and then accept all the things to install all the new releases.
You will also have to follow the on-screen instructions to get the updates done.
Read more: How To Fix QuickBooks Error 6130 (Corrupted Company File)
Scheduling the updates for automatic downloading
Then there is another way in which you can schedule the automatic updates for future. Here is what has to be done!
Now, you should go to the "help" menu and then select "update Quickbooks Desktop."
From there you will have to look for the "options tab" on the screen.
Lastly, just click on the "yes" button to set the automatic updates.
And now, just close the window because you are all set.
Contact Our Tech Expert to Resolve QuickBooks Error 6123 0
We hope the above methods have guided you on how to fix QuickBooks error 6123 0. The error poses serious risks of losing or damaging the company files. If you have any queries or issues about QuickBooks, we suggest you get in touch with our expert team. Dial Asquare Cloud Hosting Helpline Number at +1(855)-738-0359 and avail of technical assistance right away.
QuickBooks Company File Error 6123 FAQs:
1. Why QuickBooks cannot contact the Database server during error 6123 0?
It is because you probably selected the configured Windows Firewall or antivirus settings to block access. This is one of the most recurring reasons for QuickBooks error -6123.
2. How to QuickBooks Enterprise Error 6123 0 on Desktop?
Well, several effective methods can help you eliminate QuickBooks file error 6123. Some of them include running QuickFix My Program and QuickBooks File Doctor. Follow our detailed blog on how to fix QuickBooks error 6123 0 in Desktop.
3. Is it easy to fix the 6123 error in the QuickBooks desktop?
While it is difficult, proper guidance can help you resolve the QuickBooks error -6123. You can contact our tech expert at 855-738-0359 and let them handle the issue for you.
4. Can we resolve QuickBooks Error 6123 with Windows Update?
A Windows update might change the settings or fix the blocking firewall or antivirus issue. However, the chances of it working out are quite less. Please follow the troubleshooting methods to resolve QuickBooks error 6123 0 properly.
5. How much does troubleshooting error code 6123 in QuickBooks Desktop cost?
Sometimes you can fix this issue without paying a penny, but if an error occurs due to damaged data or files, then you need to opt for help as the plan varies.
See more helpful articles to read: